It's five o'clock somewhere, so join us and raise a toast as we celebrate the six-year anniversary since Plexal began!
Over the past half dozen years, Plexal has grown to become the innovation company solving society's challenges through collaboration on emerging technology with government, startups and industry. We're closing the gap between organisations – small and large, local and global, private and public – and working towards a common goal: using science and technology to ensure our national security and deliver prosperity.
Today we reflect on the six-year journey of Plexal so far. Hot on the heels of winning the techUK President's Award for Economy, our CEO Andrew Roughan continues to lead "a bold and ambitious mission" and says "we've got a decade to come of supercharging our potential."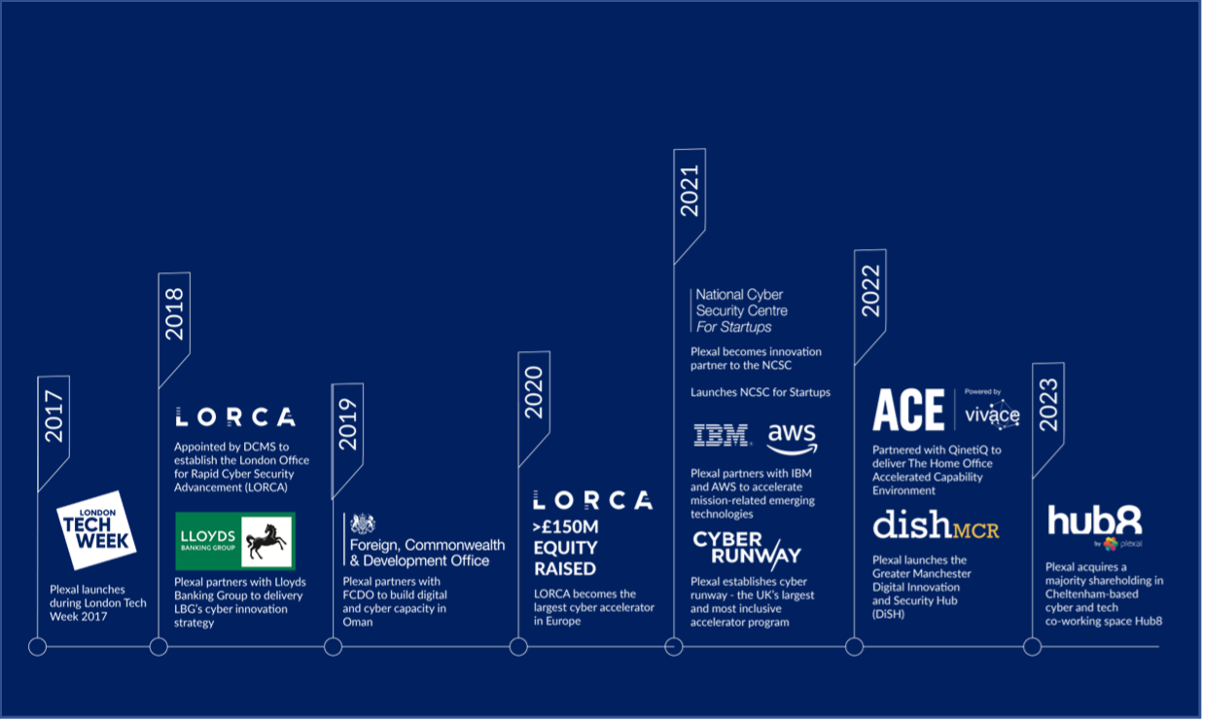 2012 – The Queen Elizabeth Olympic Park legacy
Our name is derived from the word plexus – the connector system within the central nervous system – which ties into our vision to be a vital connector within the UK tech ecosystem.
In 2017, Plexal was founded in Stratford as a state-of-the-art innovation centre on the Here East campus, designed to provide startups and established businesses with the resources, connections and expertise needed to thrive in today's rapidly evolving digital landscape.
From 300 expressions of interest to repurpose the Queen Elizabeth Olympic Park's press & broadcasting centre, we were successful with our bid to develop an innovation centre bringing together academia, government, industry and innovators all into one place. Read more about the development and see photos from the construction in our blog 'Plexal Turns Four!'
Today our mission is government-led innovation. We provide bespoke consultancy services and "the coolest" workspaces for over 1,000 innovators, with over 70 team members working across seven locations in three cities: London, Manchester and Cheltenham.
October 2022: we opened DiSH Manchester through a joint mission with Barclays Eagle Labs, Lancaster University, University of Manchester and Manchester City Council
November 2022: we opened Plexal Shoreditch, a new London office in partnership with Hackney Council
January 2023: we acquired a majority shareholding in Hub8, a growing network of co-working spaces for cyber-tech, digital and creative startups and SMEs in and around Cheltenham
Delivering impact through innovation and collaboration
One of the key factors behind Plexal's success is our commitment to building a collaborative community. By fostering connections between startups, entrepreneurs, investors, and corporate partners, Plexal has created an ecosystem of over 15,000 individuals.
We've played a crucial role in nurturing and supporting over 500 startups and scaleups throughout their growth journeys and created an environment conducive to innovation and growth through workspace, innovation programmes, mentoring, connections to investors and business development assistance.
Today, Plexal operates in multiple sectors including national security, government, defence, cyber, financial services, telecoms, healthcare and much more. In the public sector, we work with government departments, from the Cabinet Office and Home Office to DSIT, the NCSC, GCHQ and further afield with the FCDO and DBT. And in the private sector, we partner with corporates such as Deloitte, IBM, Lloyds, Dell Technologies and AWS – in addition to startups, SMEs and scaleups.
Plexal's programmes and partnerships
Impacting the local community
Plexal's influence extends beyond our immediate community. The Stratford hub actively engages with the local ecosystem, supporting initiatives aimed at empowering underrepresented groups and promoting diversity in tech.
Accessibility: As a delivery partner of the East London Inclusive Enterprise Zone (or ELIEZ), which aims to support disability-led innovation, Plexal's made numerous changes already to optimise our physical workspace for accessibility. And our latest change is the upgrading of a hotdesking zone in Monument Square at the heart of Plexal Stratford.
We listened to the needs of our members and added a Prayer and Wellness Pod this year to give people a private space in Plexal Stratford.
During COVID-19, we stayed open to support the local community with initiatives such as using our prep kitchen to make meals for families.
We're proud to have social enterprises and charities in Plexal Stratford such as BADU, Disability Rights UK and youth movement My Life My Say. Read an interview with BADU's leader Nana Badu about how BADU are motivating young Londoners through sport.
We hosted the launch of Hackney Council's Diversity in Tech: Breaking the Barriers report which Here East had helped organise in order to convene a panel discussing the barriers to securing jobs in tech and possible solutions and opportunities for people across Hackney.
Hear what our Stratford workspace members say about Plexal (from an anonymous survey conducted earlier this year):
"Love being a member, and the services are 1st class."
"Versatile and adaptable offices and services"
"I also use Plexal in Shoreditch and both office spaces are excellent. I would choose Plexal above all other flexible working facilities due to factors across the board. And the Plexal people are awesome! To confirm, I don't work for Plexal."
"It's just a great place to work from and facilities are excellent"
"The community team at reception are ever so welcoming and helpful"
Read more testimonials here.
As Plexal celebrates our 6th anniversary, it stands as a testament to the power of community, collaboration, and innovation. Over the past six years, our hub has fostered countless success stories, fuelled technological advancements and created a thriving ecosystem for startups and scaleups.
With our commitment to inclusivity, support and driving positive change, we're continuing to shape the future of tech as an indispensable resource for entrepreneurs and businesses seeking to make an impact in the digital age.