As the innovation partner to DiSH (Greater Manchester's Digital Security Hub), Plexal is supporting early-stage Manchester startups building digital security products and services. Our DiSH Accelerator provides participants with access to learning content, mentors, introductions to key industry players within the local ecosystem as well as workspace for the duration of the programme.
But, perhaps most importantly, it presents participants with access to a peer community who are all going through the same entrepreneurial journey.
As the second iteration of the DiSH Accelerator programme concludes, one of the most powerful outcomes we've witnessed is the power of collaboration amongst the cohort of 12 Manchester startups who joined the programme in April, delivering everything from neurodivergent skills support to password eradication
Naturally the life of a founder is a busy one – starting your own business isn't a walk in the park – but this inspiring group of Manchester startups all made time to support one another, whether that was providing peer-to-peer feedback on pitching, technical problem solving or even exploring partnership opportunities to create new services and gain new business opportunities. Each leader showed a willingness to support and collaborate with one another – a sentiment that's continuing now the programme has finished.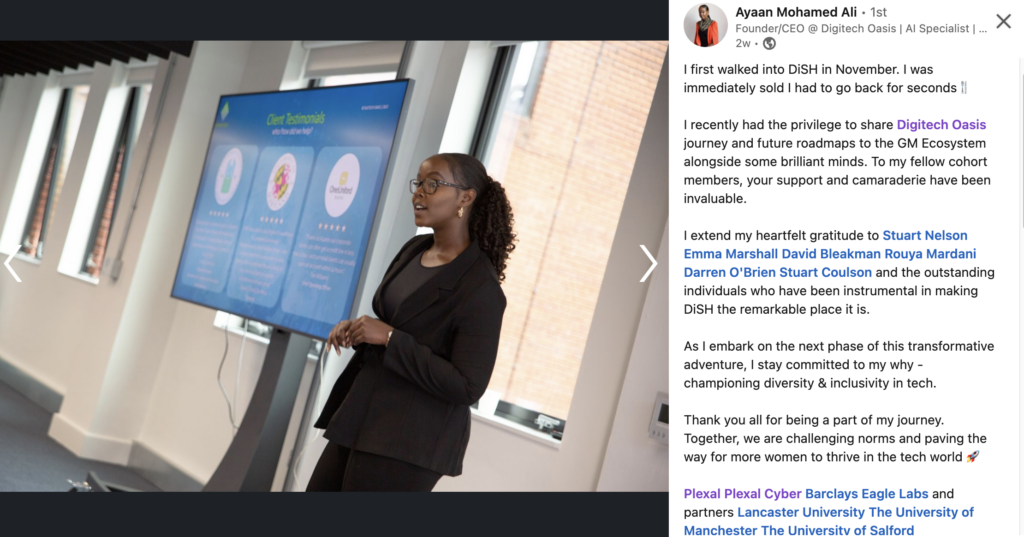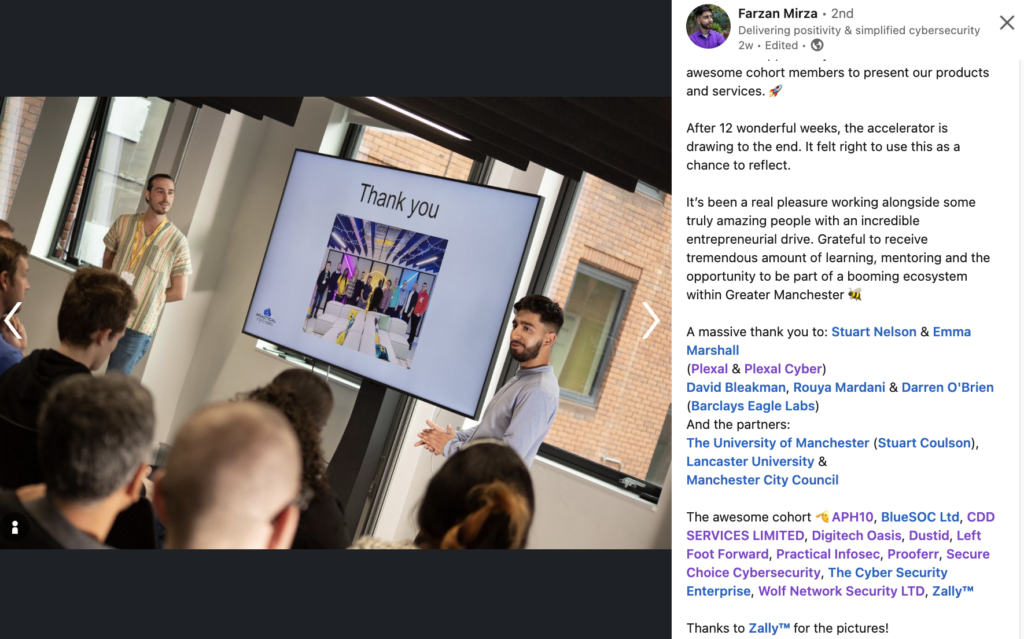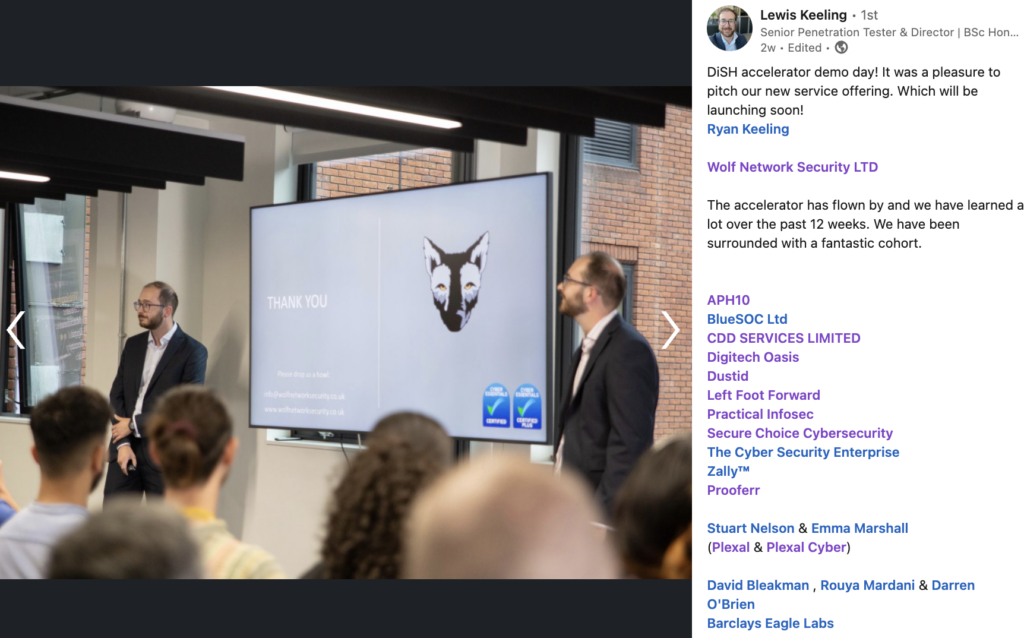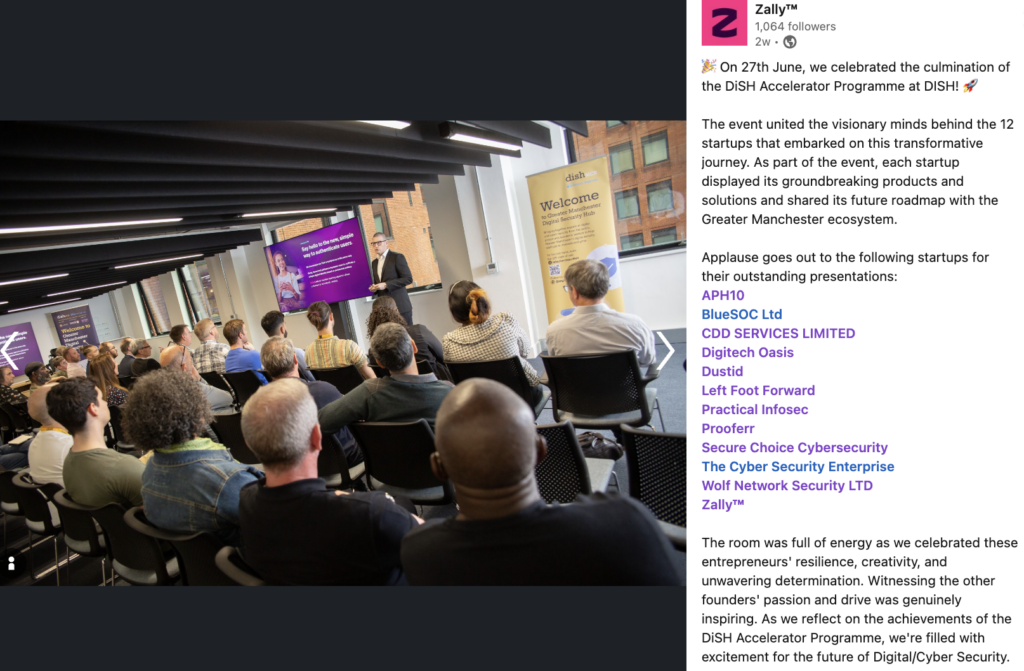 So, what are the benefits that arise when we can unite startups, facilitate knowledge exchange and foster a culture of collaboration?
Sharing diverse perspectives
One of the key advantages of a collaborative cohort is the diverse range of perspectives and expertise that each startup brings to the table. By pooling together collective knowledge and experiences, cohort members can gain fresh insights and alternative approaches to problem-solving. This cross-pollination of ideas enables startups to think beyond their own boundaries and explore new possibilities, leading to innovative solutions that may not have been otherwise discovered.
Mutual support and accountability
The journey of entrepreneurship can often be challenging and lonely. However, by forming a collaborative cohort, startups can lean on each other for support and encouragement. When facing similar obstacles or setbacks, cohort members can share their experiences, offer advice and provide emotional support. This sense of camaraderie creates an environment where startups can celebrate victories together, learn from failures and foster resilience collectively. Moreover, the cohort acts as an accountability system, as each startup strives to excel and achieve milestones, motivated by the progress of their peers
Leveraging collective resources
Collaboration among startups allows for the pooling of resources, both tangible and intangible. Financial resources can be shared for joint initiatives, reducing the burden on individual startups. Additionally, the cohort can tap into a wider network of contacts, potential clients,and mentors, opening doors that might otherwise be inaccessible. By leveraging these collective resources, startups can accelerate their growth, expand their reach and gain a competitive edge in the market.
Accelerated learning opportunities
By participating in a collaborative cohort, startups gain access to a wealth of knowledge and expertise. Peer-to-peer learning sessions, workshops and knowledge-sharing platforms allow startups to learn from each other's successes and failures, promoting a culture of continuous learning and improvement. This accelerated learning empowers startups to navigate challenges more effectively and seize emerging opportunities with confidence.
Creating an environment that nurtures collaboration and allows it to flourish is not confined to early-stage company or in-person programmes. At Plexal, we seek to create that magic sauce in all our initiatives, including our new Scaleup Programme powered by Barclays Eagle Labs and funded by government. This six-month programme, which starts in September, will support up to 25 scaleups who are solving societal challenges with access to support related to key challenges a scaleup faces when going through a period of rapid growth.
In contrast to a one-to-many delivery approach that can limit a cohort's ability to share their unique experiences and challenges, we have designed mini cohorts within the Scaleup Programme structure. This approach allows participants direct access to expert coaches who specialise in addressing challenges most prominent to them and creates an environment where they can share their diverse perspectives, gain mutual support, leverage collective resources and accelerate learning opportunities.
Through this curated approach we hope to not only to provide targeted support but also to create an environment where collaboration can be embraced and rewarded. As participants come together, exchange ideas and unlock new possibilities, the outcome may be the creation of new innovative solutions and partnerships.
Applications for the Scaleup programme are open now and close Friday 28th July. For more information visit https://labs.uk.barclays/what-we-offer/our-programmes/scaleup-plexal/ or contact Innovation Ecosystem Lead, Emma Marshall.
Stay tuned to our social channels @PlexalCyber on Twitter, Plexal Cyber on LinkedIn and sign up to our Cyber Community newsletter for more updates on our cyber security programmes.