Over the past 12 weeks, nine organisations have been through OpenDoor: Plexal's accelerator programme aimed at supporting solutions that can make work more inclusive. And this week, we were proud to see our cohort members graduate and pitch their solutions to a room full of investors.
Our cohort is a diverse one, but what unites them is a relentless determination to ensure everyone has access to the same opportunities to discover their passion, pursue a career of their choice, progress in that career or start a business. And they're also hungry to collaborate, so keep reading and – most importantly – reach out to work with them.
Nine solutions that can make work more inclusive…
Love Leaning and Love Working: making learning and working accessible for Deaf people, while unlocking a talent pool for employers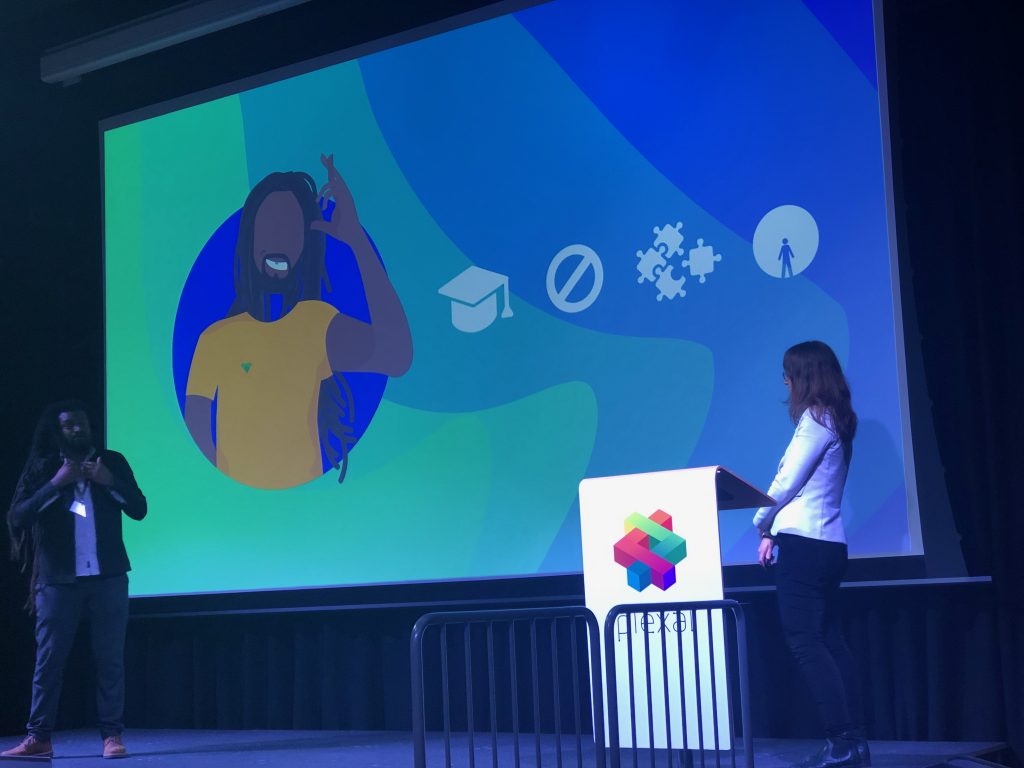 Love Learning and Love Working are the product of a made-in-Plexal collaboration between our members Idea East, a design innovation agency, and Love Language, which provides sign language services and training. A Plexal love story, if you will.
Providing some context for why their solutions are so needed, Love Language co-director Naomi Bottrill pointed out that there are around nine million deaf people in the UK, and around half of those are unemployed. "We identified two main problem areas," Bottrill said. "Getting access to work and connecting to employers, and then actually integrating into the workforce."
So Naomi and her co-director Rezene Woldeysus teamed up with Idea East to create an app and a suite of tools that enable Deaf people to find work, while connecting employers to Deaf talent. For example, a jobseeker can find out ahead of time whether the company has anyone who can sign in the team who can be present in an interview, or receive funding from the Access to Funding scheme for an interpreter.
The team has also created a learning platform aimed at helping companies create a more empathetic company culture (it has modules on making small talk in sign language, for example).
Collaboration calls to action:
Employers: commit to using the app and giving Deaf people opportunities
Become a partner, the team is especially keen to hear from HR platforms that want to be more inclusive
Developers: get in touch if you want to become a founding partner who can help build the product and take it to market
Disability Rights UK: an online marketplace for disabled people that brings design and function together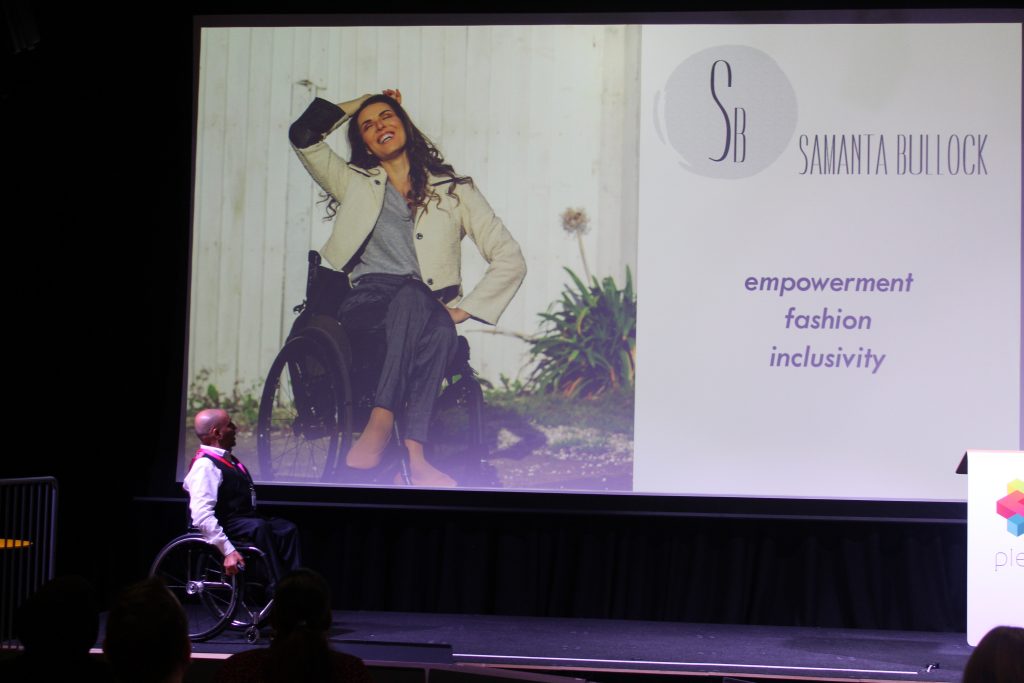 Kamran Malik, CEO of Disability Rights UK, talked about how challenging it can be for disabled people to source well-designed, beautiful and useful products that were made by disabled people, for disabled people. He recalled the time he returned home after an operation on his spine and found himself surrounded by medical equipment that was intended to help him live independently. Very practical, but the kit wasn't particularly aesthetically pleasing to a design-conscious Malik: "None of it looked nice, and I'm someone who's particular about what I have in my house," he said.
At the same time, the CEO was well aware that "there are disabled people who are designing amazing lifestyle and assistive products". The difficulty lies in finding them.
His solution is an online marketplace that connects disabled people with products designed in an inclusive way. Products that don't just function well, but look good too. The marketplace will also give disabled designers and entrepreneurs a platform to showcase their work while networking with each other and being part of a community.
Finally, Malik touched on the economics of the opportunity: spending by disabled people is worth £249 billion to the UK economy alone – not an insignificant market.
Collaboration calls to action:
Market testing
Co-funding two development cycles, and technical support to develop the platform
Expertise as well as investment
Malik plans to as hold an event at Plexal to hack the prototype version, and wants as many people to attend as possible
SociAbility: improving access to information for disabled people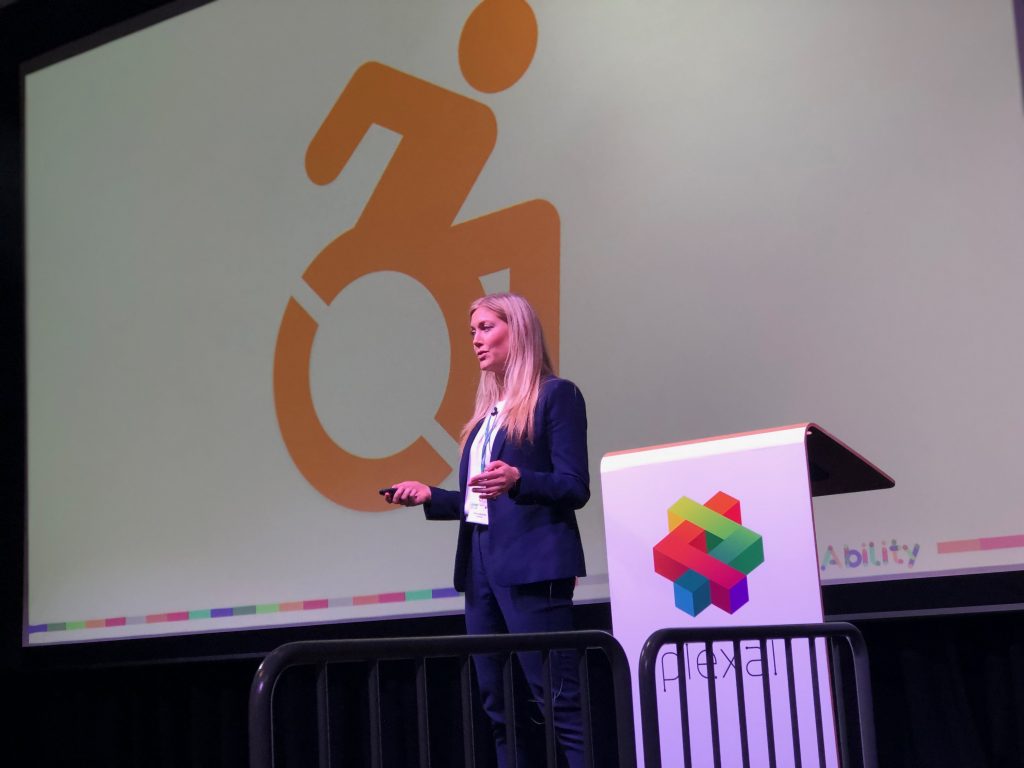 "We're on a mission to make the world a more sociable place," Emma Turner, co-founder of the SociAbility app, told the audience.
The entrepreneur talked about how when doing something as seemingly straightforward as grabbing a coffee, disabled people need to know a huge amount of information beforehand, such as the availability of ramps or the width of doors. But finding this information, she said, can be frustrating and doesn't always exist in the public domain. This means that "social venues across the UK miss out on billions of pounds per year by not being accessible".
SociAbility's solution is an app that allows people to explore venues and view or add accessibility information about it.
Turner also explained how the team is keen to provide factual information, rather than simplistic judgements about whether a venue is accessible or not. This is important because disabled people have different needs and preferences. "We're really trying to get away from this accessible/inaccessible binary that you see today on so many platforms," she said.
Collaboration calls to action:
Funding, which will enable SociAbility to hire developers and finish building the app
Partnerships to build awareness and create a community
Grid Smarter Cities: revolutionising air travel for disabled people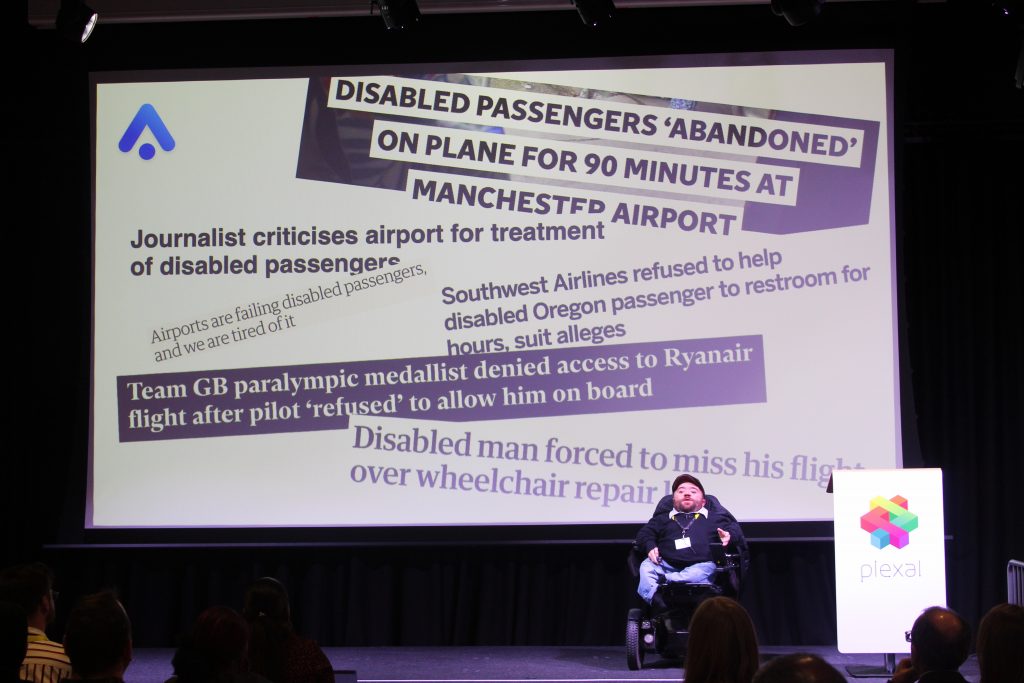 Dom Hyams, communications director at Grid Smarter Cities, explained the origins behind the idea for assist-Mi: the company's solution that aims to revolutionise the way disabled people travel by air. When Dom's plane touched down in Zurich, his £22,000 wheelchair was damaged while being handled by the airline – an experience he knew was all too common for disabled people.
Grid Smarter Cities' solution is an app that allows people to request and receive assistance in real time as well as create a personal profile so their bespoke needs are communicated to the airport (which saves disabled people from having to repeat themselves at multiple points of their journey). "For the user this is about independence, it's about reassurance," he explained.
Dom highlighted the business case for airports and service providers: it creates operational efficiencies and could even win them new customers by encouraging disabled people to fly more frequently.
assist-Mi has already been successfully piloted at a major airport, and Dom hopes to work with more partners and service providers in the new year.
Collaboration calls to action:
Partnerships
Funding to increase their reach and get the solution into the hands of more service providers
BADU Sports and BADU Community: using sport, early engagement and community to empower young people in east London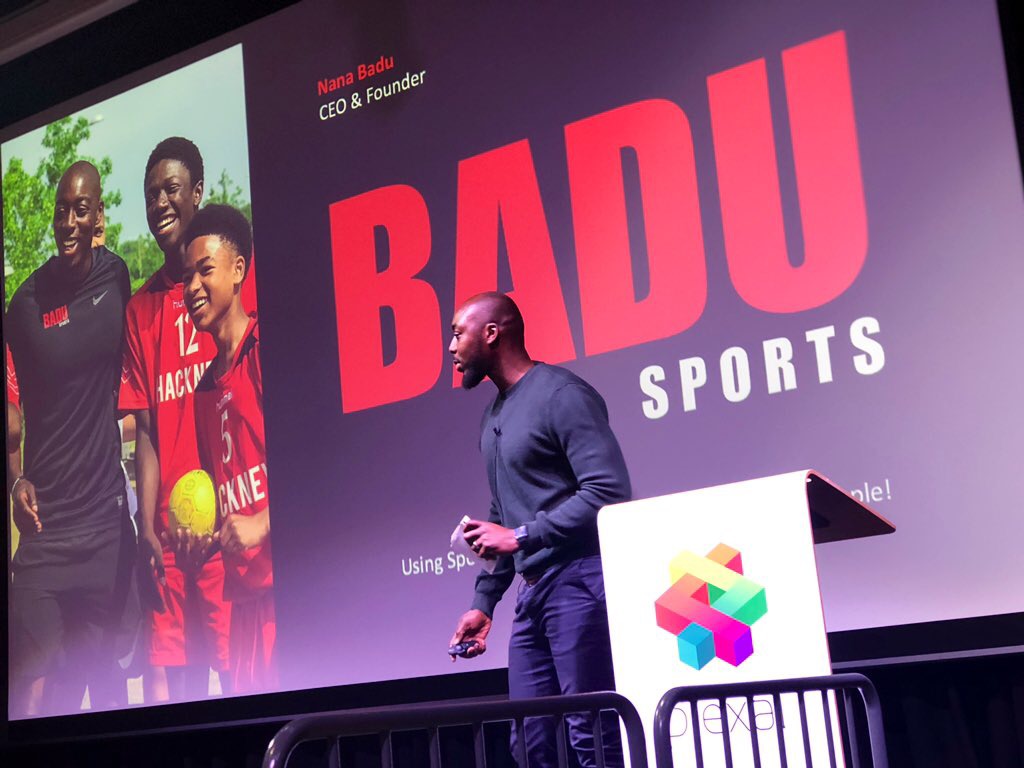 Founder Nana Badu, who's also one of Plexal's first members, shared the 360-degree approach his organisations BADU Sports and BADU Community take. They:
offer a diverse range of affordable in-school and after-school programmes
ensure everyone on their team is from a similar background to the people they're working with
engage with both young people and their families to create a wraparound support system
Explaining why they choose to work with families, even when a child's home life is chaotic, the social entrepreneur said that "despite the challenges, they (the families) are one of the biggest influences – you have to work with them".
He also showed the audience a photo of a group of young men who came to Plexal for some work experience, saying: "If you look at this picture and you look at their faces, they just want knowledge. They want opportunities. They want to navigate their way through the system so they can change heir own outcome."
Collaboration calls to action:
Funding to reach more young people and families, and deliver more programmes
Training and mentoring opportunities for young people
Venues – the company is always looking for venues where they can do their work
Autsera: using VR to block out distractions and help children with autism learn communication skills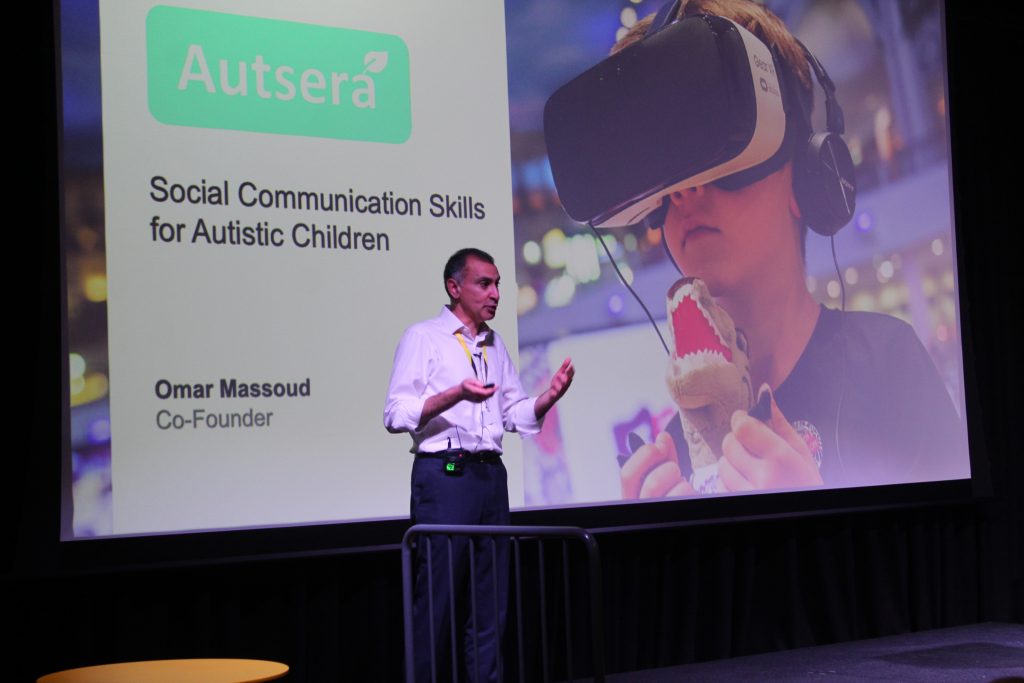 Autsera delivers games in VR to help autistic children develop their social and communication skills.
Co-founder Omar Massoud, who has an autistic son, talked about how communication can be challenging for people with autism and they can be easily distracted. But, he added, "the good news is that intervention can work and they can have an instant effect on children, on parents and also on society at large. And as a father of an autistic son, I've seen it first hand, I've seen it working."
Autsera's solution is immersive games that block out distractions to help kids learn. They come with varying levels of difficulty and can be accessed by paying for a subscription.
Since joining OpenDoor, the team has been busy: they've re-designed website, added audio functionality and started a crowdfunding campaign. And they're eager to take the next step.
Collaboration calls to action:
Schools: run trials with Autsera
Everyone: help spread the word and build a community
Funders: the company is looking for funding to build a prototype
Fledglink: matching job opportunities with young people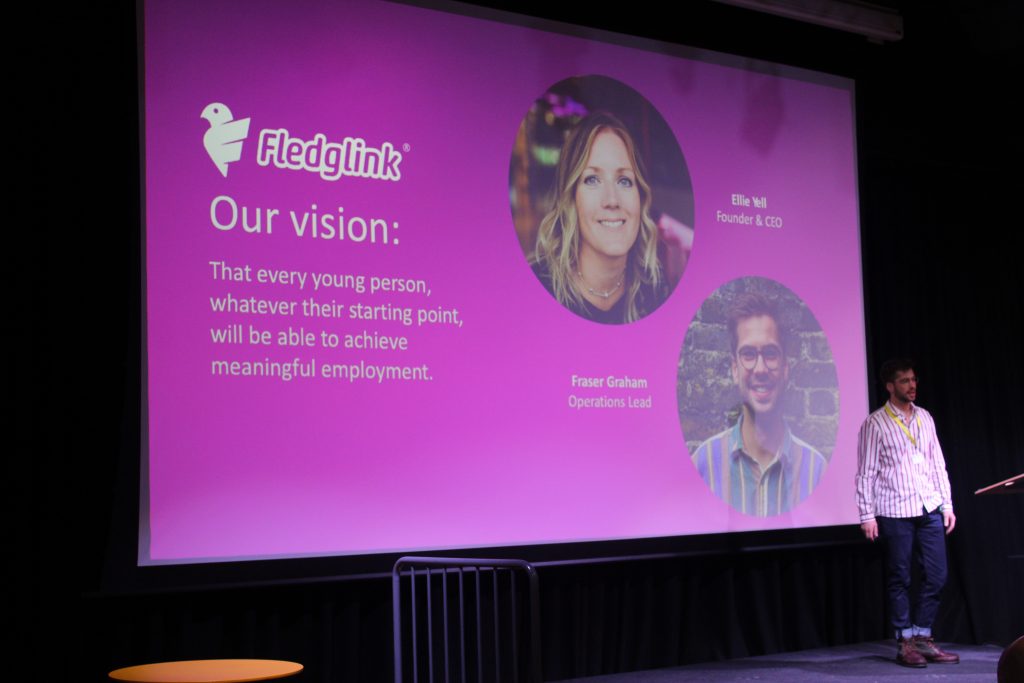 Fraser Graham, operations and product manager at Fledglink, highlighted the twin challenges the company is tackling: the fact that young people from disadvantaged backgrounds don't have equal access to employment opportunities, and the difficulty businesses face in trying to find and attract diverse talent. But at the same time, he believes traditional jobs platforms aren't geared towards this demographic. "We know individuals of this age are not on LinkedIn unless they've been told to, and once they're on there they don't have a whole lot to say because it's really geared towards professional individuals," he said.
Fledglink is a mobile app that provides young people with helpful advice, delivers workshops, helps them build their profiles and discover opportunities. It manages the entire placement process for employers to make it as seamless as possible.
And Graham was crystal clear about what the company wants to do next: "We want to continue to build on what we've got, and build an integrated smart CV for 15-19-year-olds that logs their learning and makes it easier for them to apply for roles. And for this, we're looking or investment."
Collaboration calls to action:
If you're a young person, post a profile and use the app
If you're an employer, post an opportunity. The company is specifically aiming for at least 100 companies to post opportunities for young people in east London.
£750,000 in investment to support further app development and expansion
iOrbit: helping women gain work experience while enabling businesses to access flexible support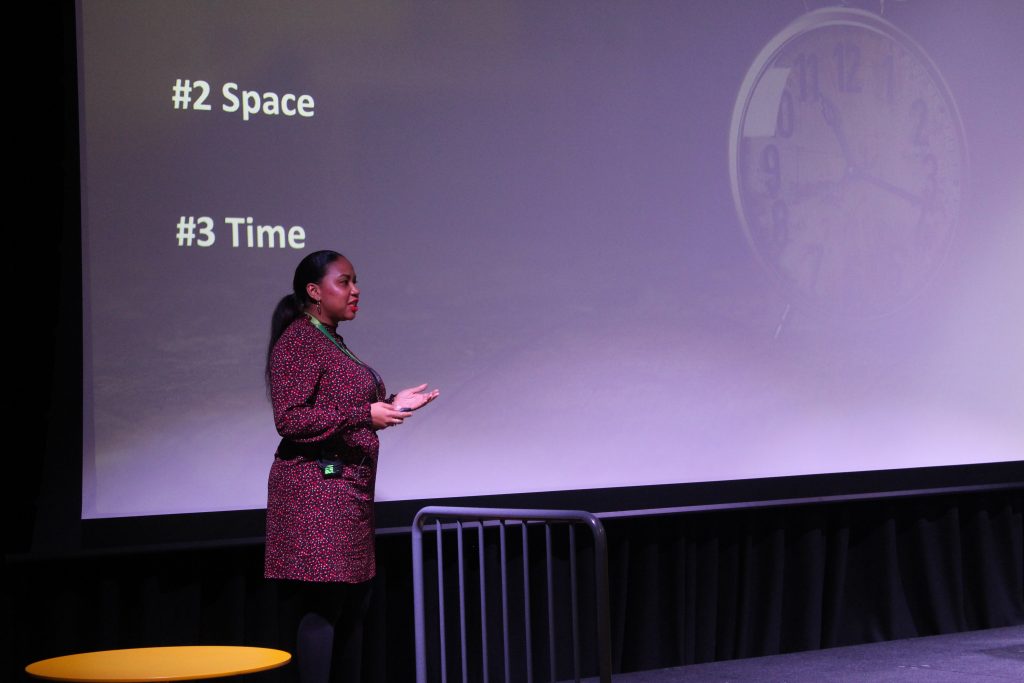 Louise Power is the founder and CEO of iOrbit: a PA service for startups and scaleups.
She started the business after she became a single parent and needed the flexibility of determining her own hours. And she was a perfect match for small but growing businesses, which also tend to require ad-hoc or part-time work.
But while Louise has enjoyed success as an entrepreneur herself, she was keen to share that success with women facing similar challenges. "I wanted to bring other mothers with me, so they can start their own business as well," she explained. So she's begun offering women work experience, partnering them with suitable clients.
Power has already delivered 20 projects, connecting 10 women with 11 clients. And, having used her participation in OpenDoor to streamline the offering, she's ready to scale and add an online booking functionality to her website.
Collaboration calls to action:
Help with sales
Businesses: bring opportunities to iOrbit
iOrbit is particularly keen to work with more coworking spaces like Plexal
Mums: sign up for work experience
PocketPals: transforming how children experience the natural world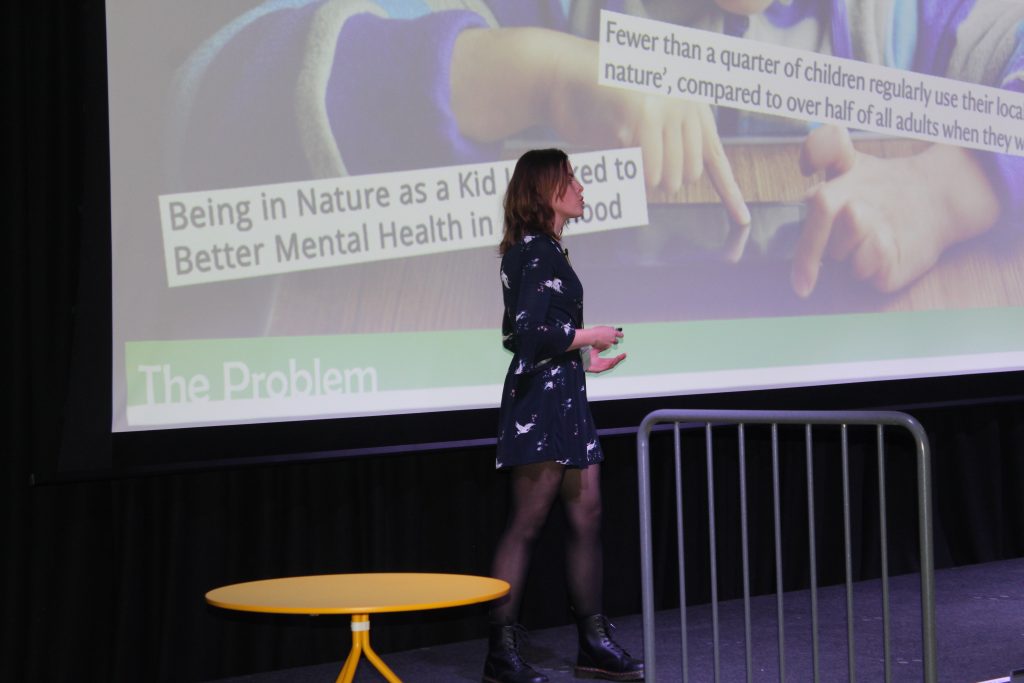 "Imagine being a child, but never seeing a hedgehog. This is the unfortunate reality for many children," Pocket Pals co-founder Dani Connor told us.
The company's solution to getting more kids to experience the great outdoors is augmented reality trails that bring nature to life on mobile phones while balancing screen time with offline engagement.
Pocket Pals is already running pilot trails with The Wildlife Trust and the National Trust, and plans to win full paying customers, launch its first seed investment round and explore bespoke apps next year.
Collaboration calls to action:
Introductions to pilot customers, schools or local authorities
Investment