Plexal first welcomed Rishi Sunak to our Stratford site on the Here East campus in 2021 for Treasury Connect while he was in the role of Chancellor, during which he highlighted the UK as a hotbed for tech investment.
We're delighted to have hosted him once more, this time as Prime Minster for what marks his first speech of 2023. Taking to our Centre Stage in Plexal Park, he outlined five promises, including:
halving inflation this year to ease cost of living and give people financial security
growing the economy, creating better paid jobs and opportunities across the country
reducing national debt so that we can secure the future of public services
cutting NHS waiting lists so that people get the care they need more quickly
reducing illegal immigration through new legislation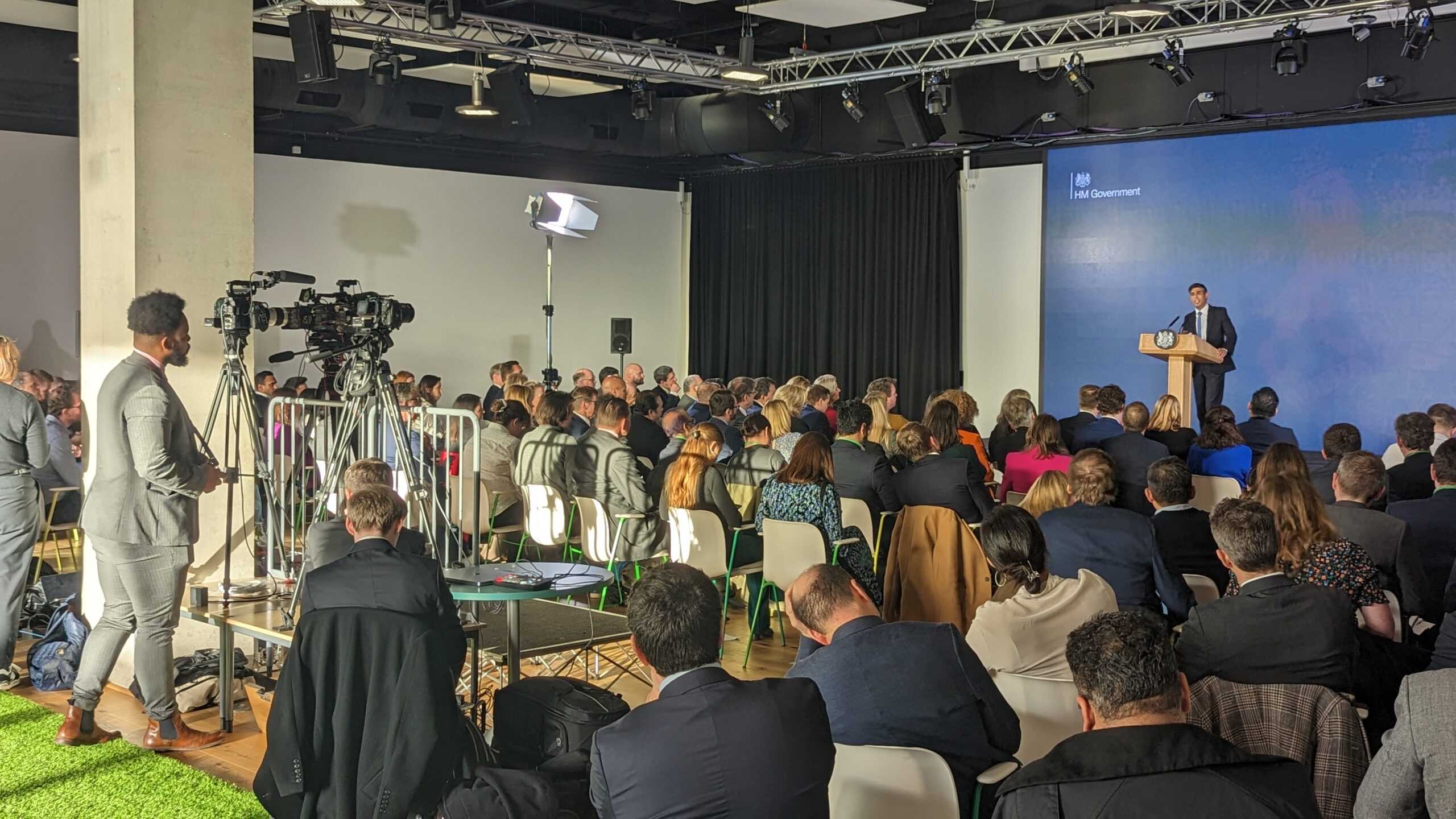 Plexal is the innovation company solving society's challenges and our mission is to close the gap between organisations through collaboration – with government, startups, industry and academia. Working towards a common goal, we're using science and technology to unlock innovation, delivering prosperity and ensuring national security.
So, it was particularly encouraging to hear the Prime Minister's enthusiasm for innovation and the potential it has for the UK's success. "We need to change the way our country works," he said. "That requires a change in mindset. What does that mean in practice? It means a more innovative economy."
Doubling down on the importance of innovation, the Prime Minister continued: "The change is to put innovation at the heart of everything we do – an ethos embodied by so many of the fantastic businesses right here at Plexal.
"The more we innovate, the more we grow. And the world is seeing an incredible wave of scientific and technological change. So right now, the most powerful way to achieve higher growth is to make sure the UK is the most innovative economy in the world.
"And that's why we're increasing public funding in R&D to £20bn to enhance our world leading strengths in AI, life sciences, quantum fintech and green technology; seizing the opportunities of Brexit to ensure our regulatory system is agile and pro-innovation; making sure entrepreneurial and fast-growing companies get the finance they need to expand; spreading a culture of creative thinking and doing things differently across every part of the UK."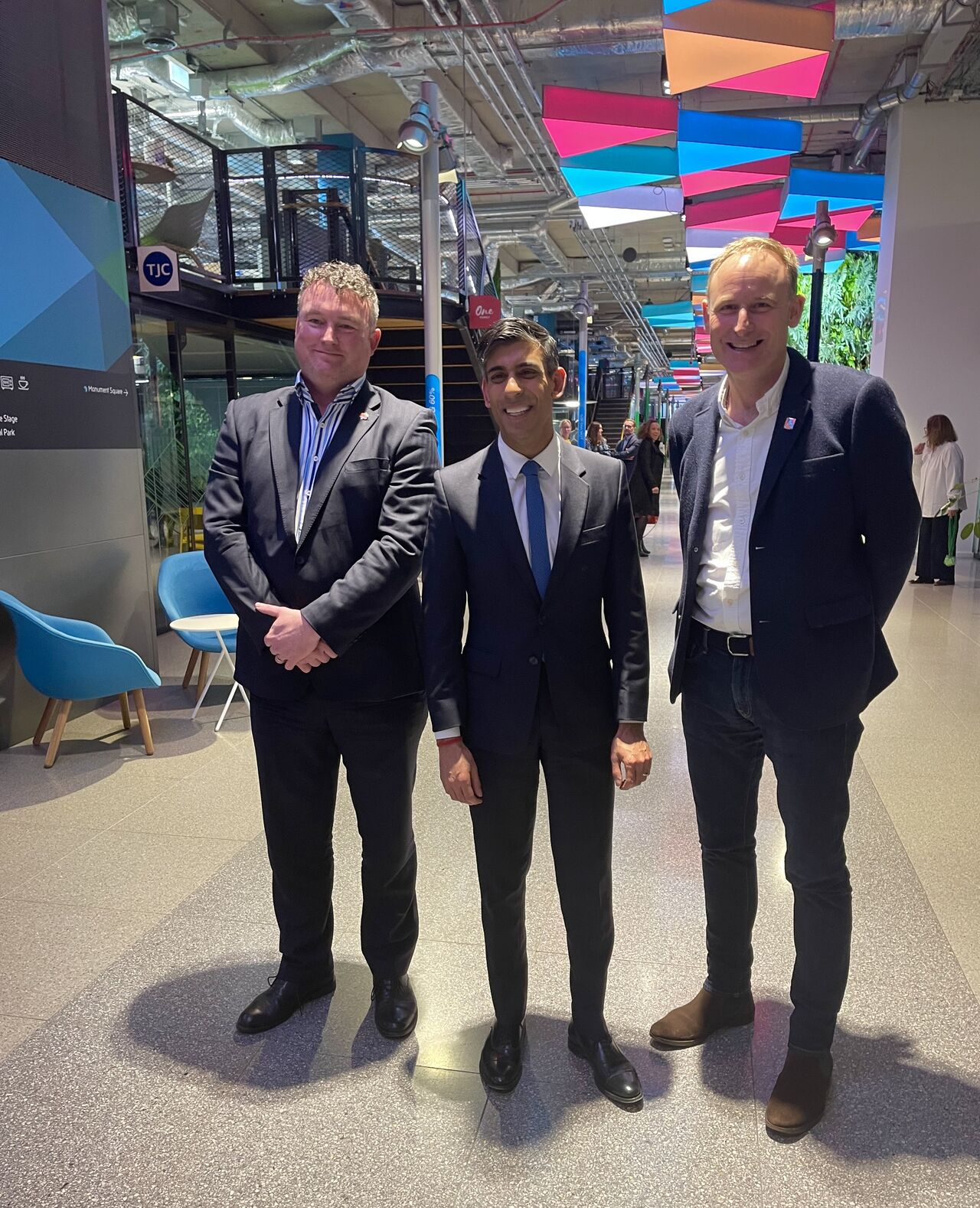 Sharing his own thoughts on having the Prime Minister return to Plexal and the plans put forward today, our CEO Andrew Roughan said: "It was a pleasure to host the Prime Minister at Plexal today, and hear him outline a vision of growth and prosperity for the UK centred around innovation. We are rightly recognised by our global peers as technology leaders in AI, fintech and net zero innovation – and hearing the Government is doubling down on developing those fields is a great indicator for the future growth of our economy.
"At Plexal we're aligned with that vision and understand the importance of fostering innovation, supporting fast-growing companies and spreading the culture of creative thinking to tackle some of the biggest challenges we face.
"It's clear that innovation will be at the heart of the Government's efforts to address the big societal and economic pressures we face – and we see a great opportunity for private and public sector collaboration to deliver on those pledges. Innovation will play a crucial role in effectively resolving the world's collective problems – whether it's the climate crisis, cyber security, healthcare staffing, national security or even knife crime, innovation is being developed across the board, and we need to start deploying it."