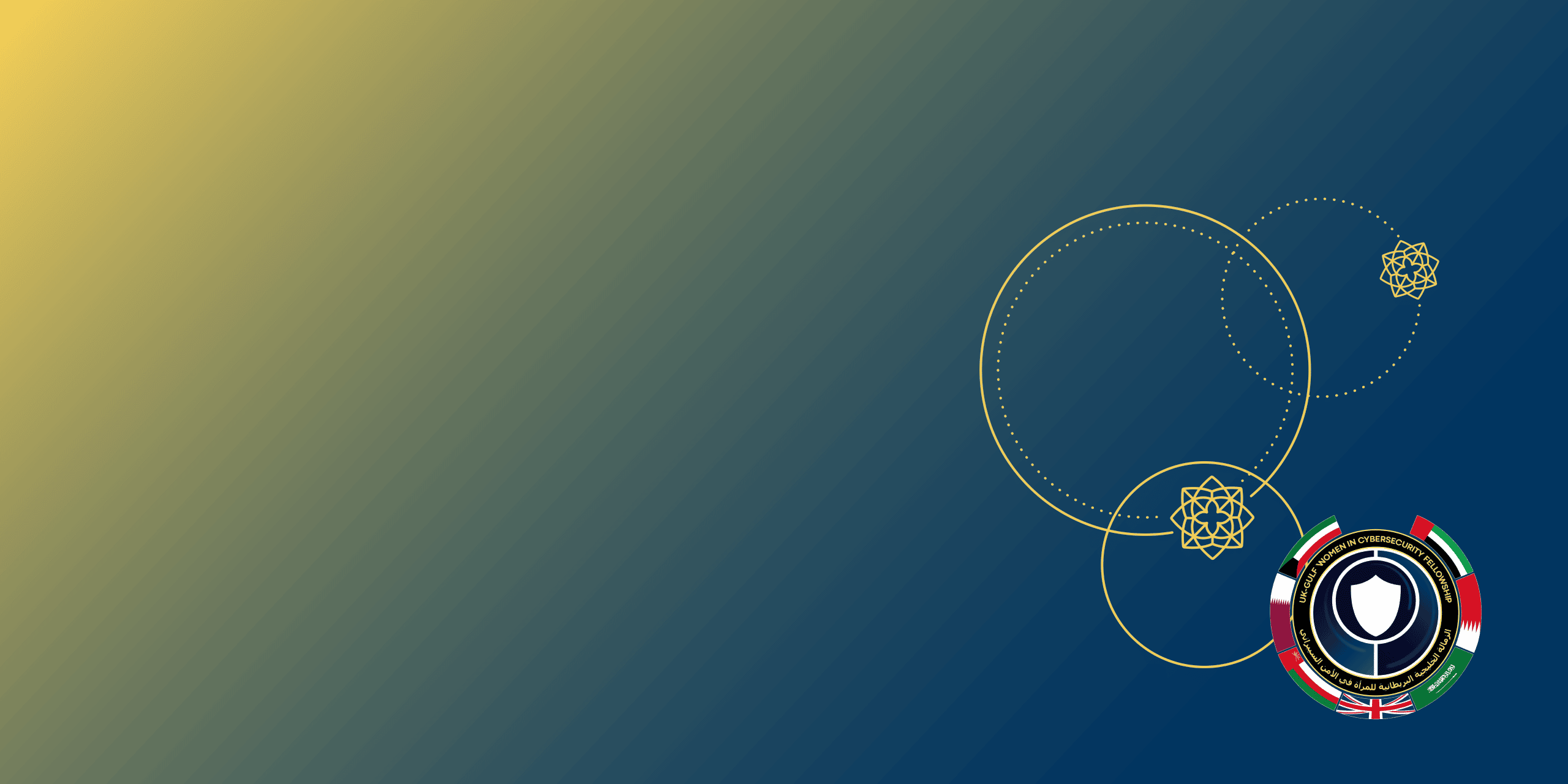 UK Gulf Women in Cybersecurity Fellowship
Closing the cyber gender gap
The UK-Gulf Women in Cybersecurity Fellowship is being delivered by Plexal and Protection Group International (PGI) for the Foreign, Commonwealth & Development Office (FCDO) for cyber security professionals throughout the Gulf Cooperation Council (GCC).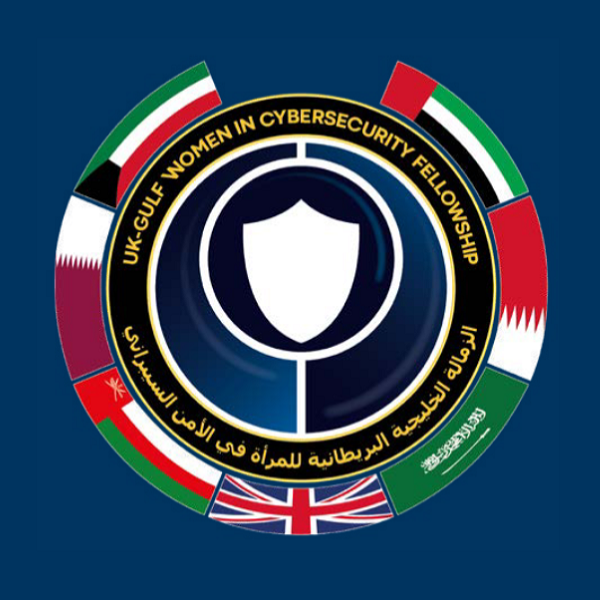 Supporting female cyber experts across the Gulf
The Fellowship empowers women by giving them networking opportunities and access to guest speakers from the UK and the GCC to help them build their careers, grow in confidence and learn about the latest trends, challenges and technologies affecting the sector.
Breaking up into project groups, the fellows have the chance to practice hands-on skills and create solutions to the big challenges facing cyber.
The next group of fellows will join us in September 2023.
What to expect
Expert speaker sessions twice a month
Project group meetings twice a month
Launch event in Muscat
Mid-point event in the GCC
Reunion event in London
Profile opportunities
UK Foreign, Commonwealth and Development Office
"The Plexal team did a phenomenal job in designing and delivering an immersive visit to London for graduates of the UK Gulf Women in Cyber Security Fellowship in January 2023. Feedback from our Fellows has been glowing, especially on the opportunities for interactivity and experiencing the UK's world-leading approach to fostering innovation – both in technology and ideas. Plexal embodies the UK's 'whole-of-society' approach as set out in our National Cyber Strategy, bringing together innovators from all walks of life to pool brainpower for tackling some of the trickiest cyber challenges."
Jonathan, Gulf Cyber Policy Lead
FELLOWS FROM 2022/2023 COHORT
"I felt overwhelmed by the amount of great women that I was surrounded by, but if you don't feel overwhelmed then you won't learn anything."
"We notice that we struggle the same struggles, whether we are Omani or we are British."
"It's about being connected with each other, where we can share, communicate, discuss, laugh, enjoy, eat together!"
TOPICS WE COVER
Cyber policy trends
Innovation methodology
Research skills
Technology trends
Cyber awareness
Cyber threat landscape
PERSONAL SKILLS LAB
Networking
Public speaking and confidence
Design thinking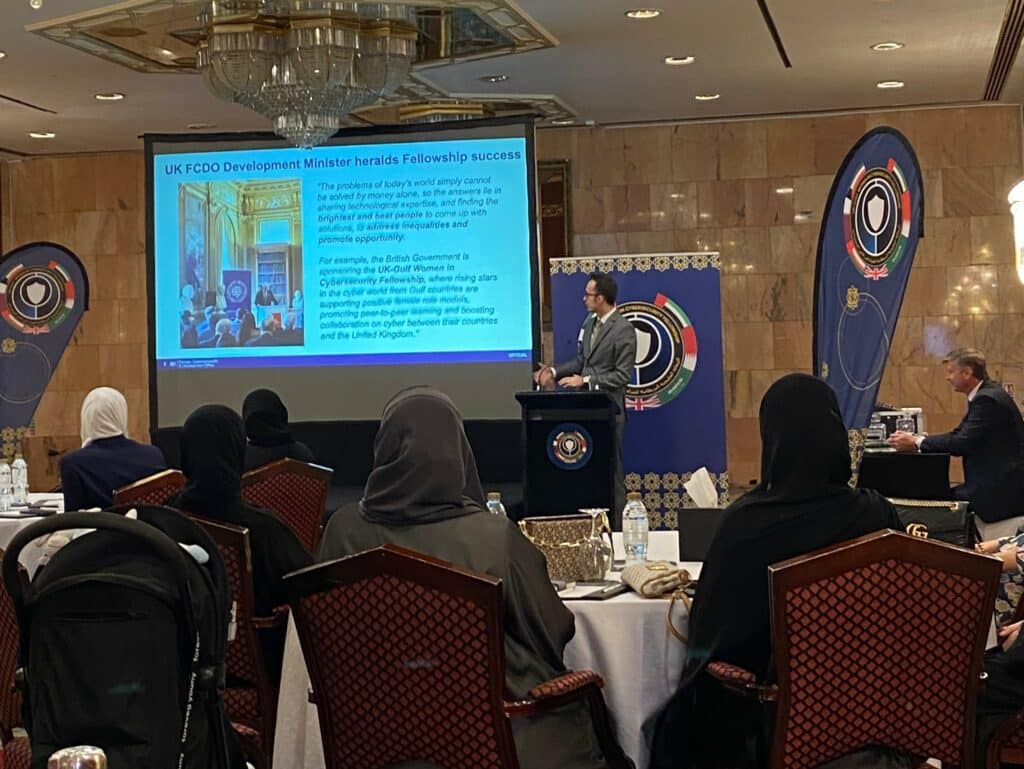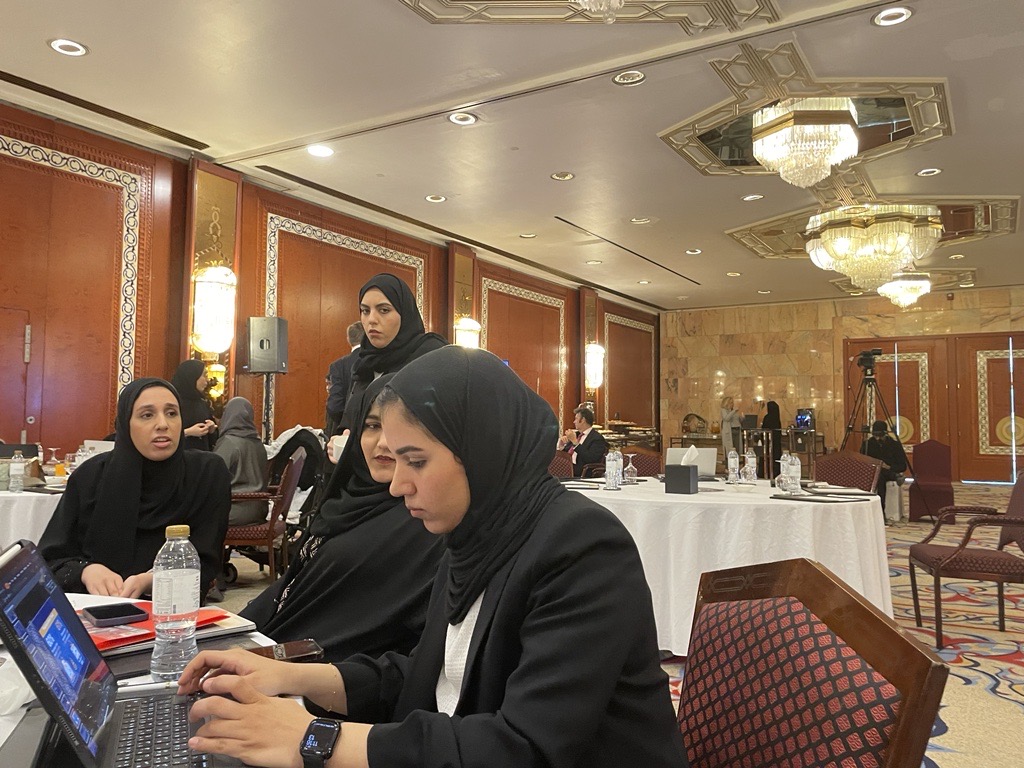 WHAT FELLOWS HAVE CREATED
Previous fellows created the first ever Arabic-speaking awareness portal, used innovation methodology to develop a minimum viable product for a cyber security tool, conducted a research project that compared data privacy legislation across the GCC and enhanced the work of the Women in Cyber Security Middle East (WiCSME) network.
FELLOWS IN THE NEWS
The Fellowship helps women build their public speaking skills, access networking opportunities and showcases their insights.
Fellows at the UN
Fellows travelled to New York to take part in the UN's Open-ended Working Group.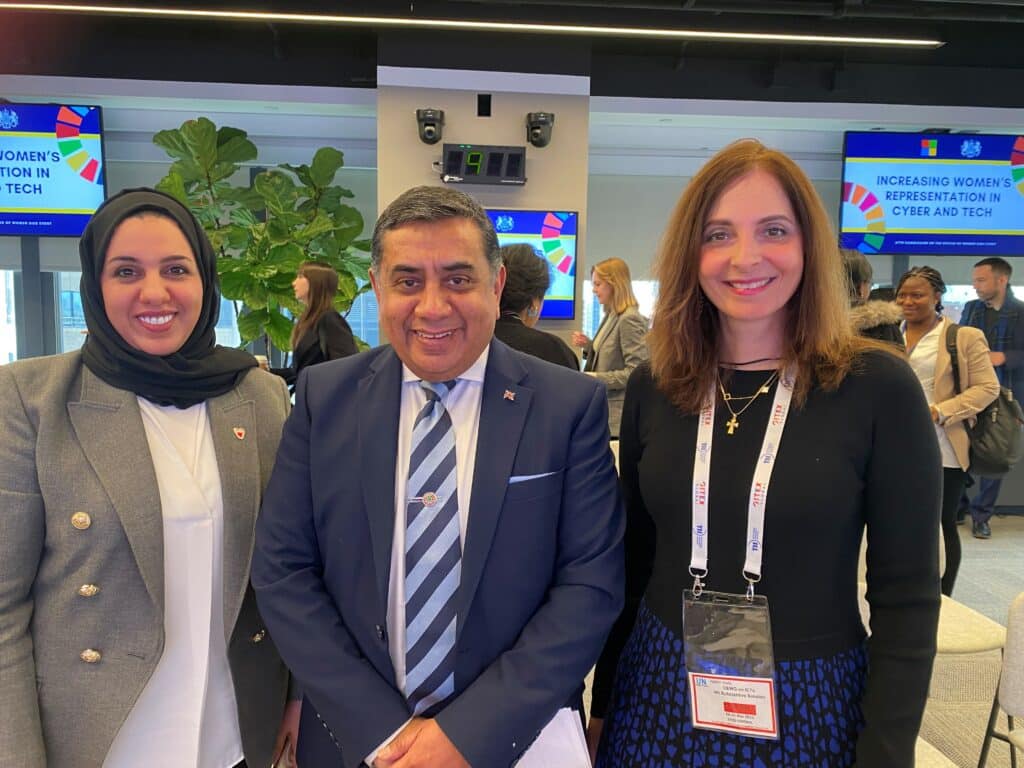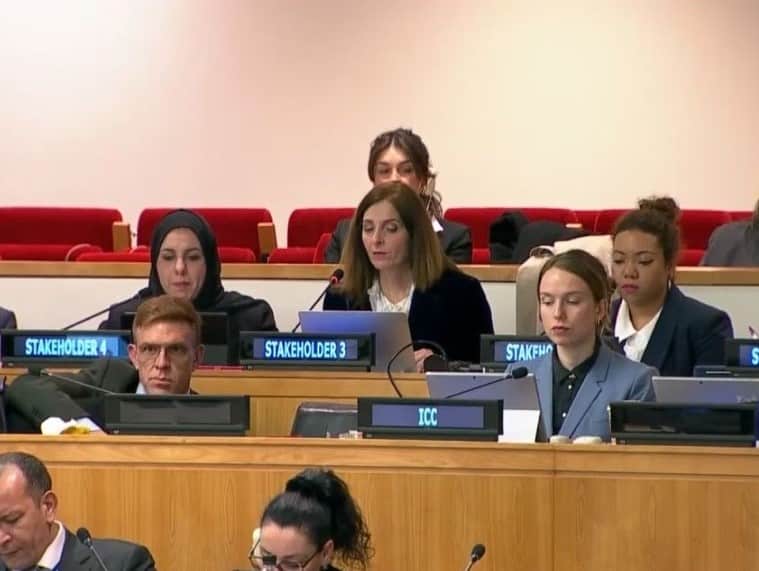 London Reunion
Fellows from our previous cohort travelled to London to meet in person, where they visited BP's Security Operations Centre, heard from UK cyber leaders in the UK government – including the NCSC's CEO Lindy Cameron and DSIT's Director Erika Lewis. They also spent a full day at Plexal meeting startups and learning more about innovation and technology trends affecting cyber.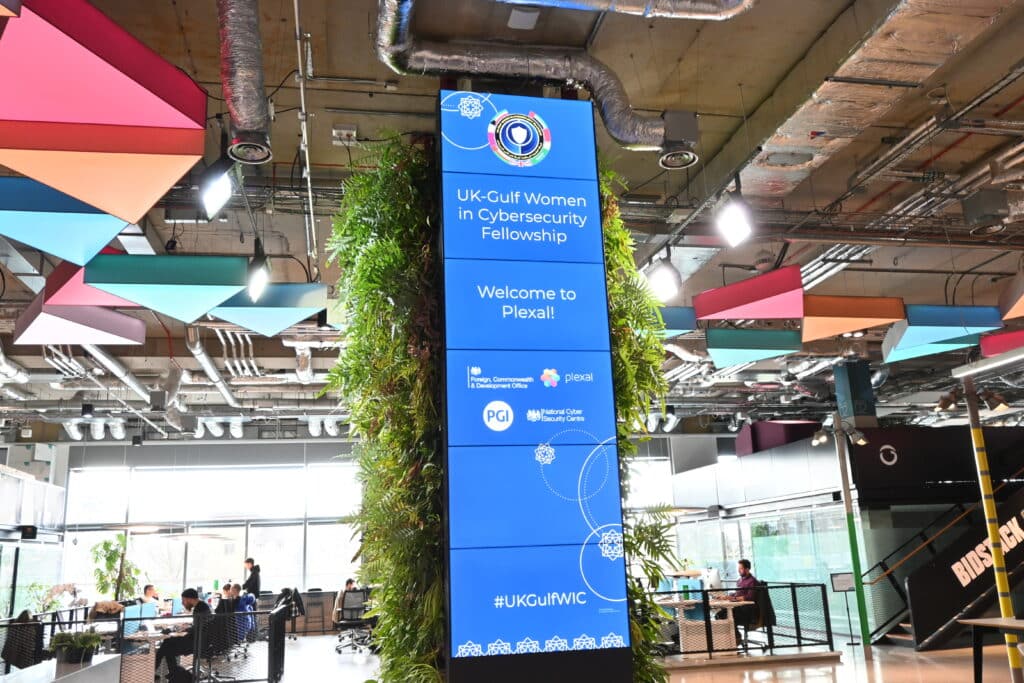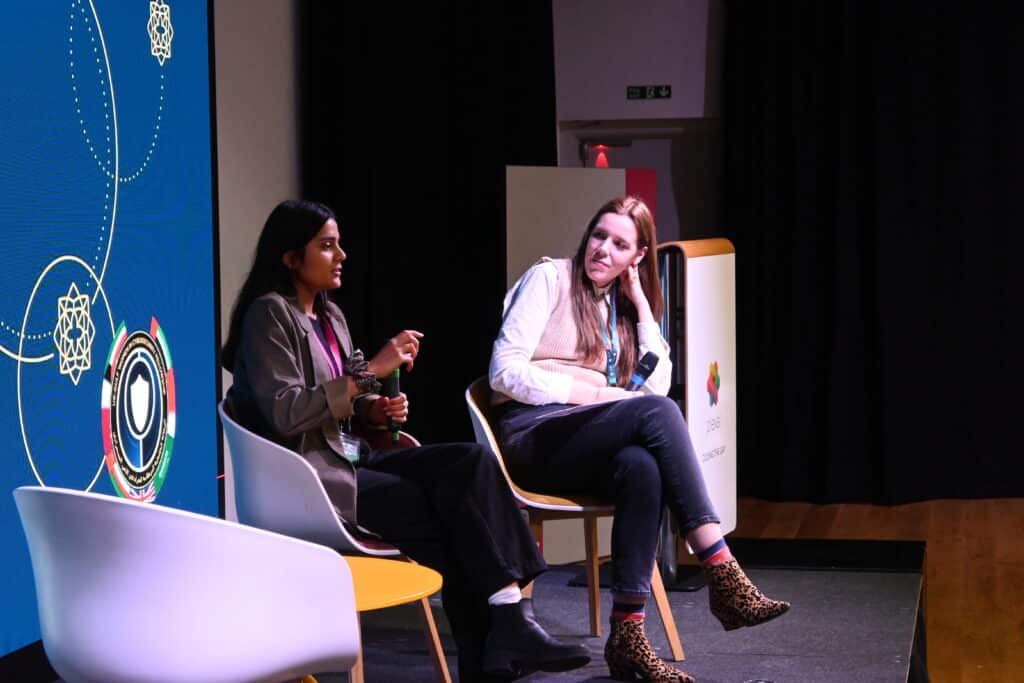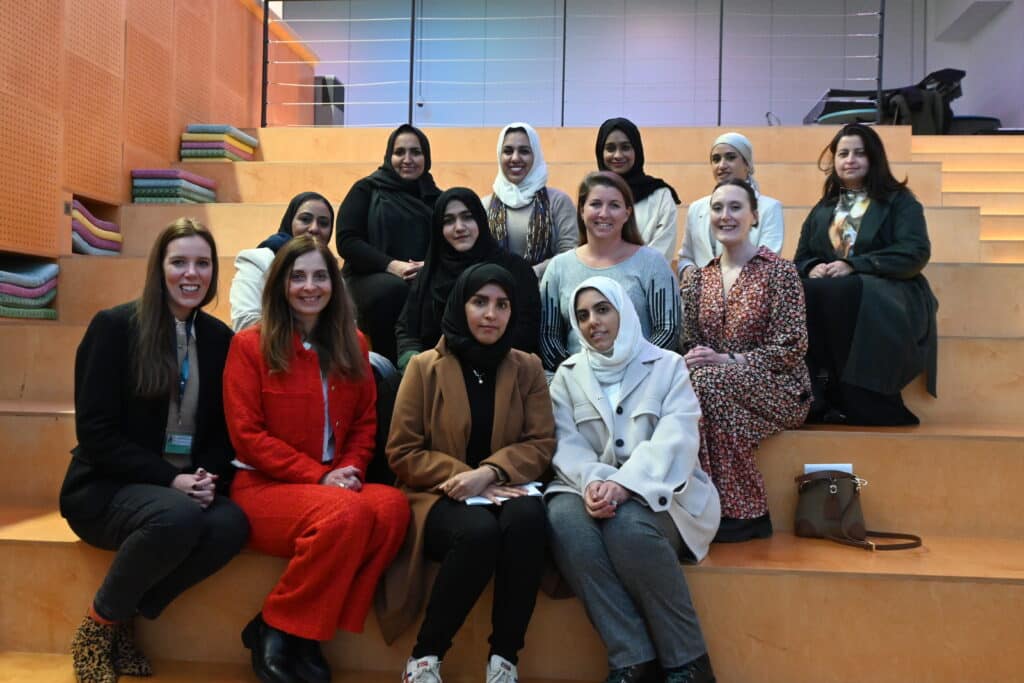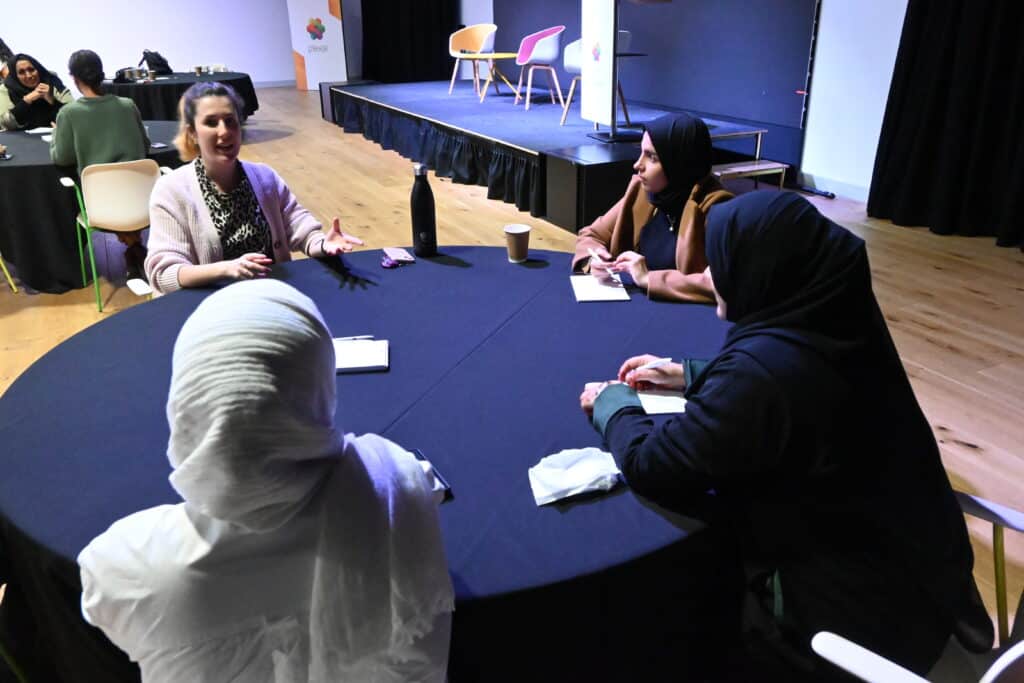 Follow #UKGulfWIC
Stay on top of all our news about the Fellowship using the hashtag #UKGulfWIC across LinkedIn, Twitter and Instagram.
GET IN TOUCH
Maria Barr from our innovation team is here if you have any questions about UKGulfWIC