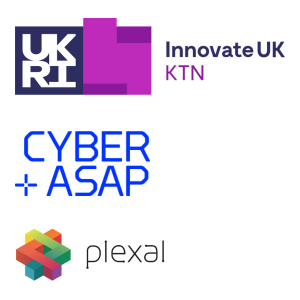 CyberASAP Pathfinder is a three-day bootcamp for academics, providing the necessary guidance and support for researchers to commercialise their ideas.
A hybrid opportunity co-led by Plexal and Innovate UK KTN, CyberASAP Pathfinder comprises two half day virtual sessions and a two-day in-person bootcamp, all of which is shaped to help participants understand the different commercialisation options available for their research efforts.
After just three days, our programme attendees will find themselves equipped with knowledge, expertise and training so they better understand how to progress commercialisation of their cyber security ideas.
CyberASAP Pathfinder is designed to act as a solid stepping stone for researchers to then move onto CyberASAP (Cyber Security Academic Startup Accelerator Programme), the only pre-seed accelerator programme in the cyber security ecosystem – now entering its eighth year.
Thursday 18th January 2024
Preliminary half-day online workshop (Afternoon)
Thursday 25th – Friday 26th January 2024
In-person two day bootcamp in Birmingham
Wednesday 31st January 2024
Concluding half-day online workshop (Afternoon)
Get involved with CyberASAP Pathfinder
About Plexal
Plexal is the innovation company solving society's challenges through collaboration with government, startups and industry. The business is closing the gap between organisations – small and large, local and global, private and public – and working towards a common goal: using science and technology to deliver national security and prosperity.
Plexal delivers projects for key government departments and global tech companies including the National Cyber Security Centre, Department for Science, Innovation and Technology, Foreign, Commonwealth and Development Office, Amazon Web Services and IBM. The NCSC For Startups alumni of over 60 companies has collectively raised over £512m and created over 1,600 jobs.
About Innovate UK KTN 
Innovate UK KTN connects academia and industry, enabling businesses to access cutting-edge research and academic expertise, ultimately fostering product and process innovation. It plays a pivotal role in strengthening the UK's position as a global innovation hub, by providing a platform for emerging technologies, fostering cross-sector collaboration, and offering businesses access to funding opportunities and support for turning innovative ideas into market-ready solutions.
CyberASAP Programme
Innovate UK KTN has led the delivery for seven consecutive years of the CyberASAP (Cyber Security Academic Startup Accelerator Programme).
This 11-month programme provides academics with the expertise, knowledge and training needed to convert their research into technologies, products and services in this key sector of the global economy. The programme creates a pipeline to move great cyber security ideas out of the university lab and into the commercial market.
To date the programme has supported over 150 academic groups, supported at least 33 spin-out companies that have raised over £22.5m worth of private investment.