Insert 🤯 emoji because it's hard to believe Infosecurity Europe was a month ago already! Then again, the consistent developments and projects taking place at Plexal move at a pace that Michael Johnson, the serial gold medal-winning Olympian, would be proud of, so it's easy for moments to flash by before you know it.
And speaking of Michael Johnson, our marketing team recently had the pleasure of being in the same room as the sprinting legend where we heard all about his career during a keynote speech. But this wasn't at Body Power or The Running Show – no, his appearance was at Infosecurity Europe, the self-described "biggest gathering of the information security industry in Europe".
Big question though: why was Michael Johnson at Infosec?
Aware of the unique pairing, Michael kicked off his speech to say: "You're not in the wrong place. I'm not in the wrong place." He even added that his wife joked about whether he was going to teach the audience how to run away from threats.
Although sprint training would have been welcomed with open arms, Michael instead shared from his lens as a seasoned athlete, covering overcoming challenges, how to perform to your best capability and coming out on top as a champion. Turns out, all of this translates seamlessly to the long-term goals of most innovators and fast-growth cyber and tech startups.
Overcoming challenges – commitment to problem diagnosis
"Early in my career I showed a lot of potential to be one of the best," Michael explained, revealing that he was always a dedicated and hard worker. "But I was hampered by injury for years."
Turning to his coach, Michael confessed he was truly worried he'd never reach his potential – the dream of being an Olympic athlete. Taking his concerns seriously, Michael's coach presented a solution, the missing piece that could help turn around his fortune: weightlifting.
"I've loved running ever since I was a little kid – it wasn't a problem," Michael said. "I hated lifting weights. And I'd tried for three years to become the first World Champion without lifting weights. So, I'd tried to avoid the fundamentals. I committed myself, did the strength training the same way I did with running, which I loved and was good at."
The result? Michael became the World Champion in both the 200m and 400m.
"The fundamentals are the fundamentals – you can't avoid them and I learned that you have to do the things that are necessary," he says. "You have to commit and dedicate yourself to the things that are necessary and fundamental just as much as the things that you're good at – and this was a great lesson."
Startup founders are required to wear many different hats – from finance and hiring to IT and marketing – beyond their specialist area, so this is a prime example of how they can apply Michael's learning. Don't neglect what's essential, even if it's not what you enjoy, and you'll reap the rewards later.
Unlocking confidence – even if things are out of your control
Another challenge Michael faced was ahead of a final. Having reviewed the lane draw, Michael realised he was set to run in what he deemed to be an unfavourable outside lane spot, which would prevent him from optimal visibility of the competitors around him.
Despite confidence in his abilities, Michael confessed to being "devastated" and "uncomfortable" before the race. This was far beyond his usual and managed nervous energy, which prompted him to really take stock of what drives him.
"I had to truly understand where my confidence comes from and how I get that," he said, adding "races are won and lost before you get on the field."
The key for Michael was understanding that his track position was out of his control. But his focus, commitment and dedication weren't. Remembering this, Michael was able to get into the zone and come away from the race victorious.
Likewise, doubts are natural for founders. And in the same way athletes have coaches, entrepreneurs can benefit from having mentors. Mentors are key elements of Plexal's innovation programmes, such as Cyber Runway, NCSC For Startups and Product Builder. Just look at this example of how people feel about having an accessible support system as they work towards their goals.
Innovation – sometimes less is more
When encountering a challenge or developing a new idea, it's common to throw more concepts into the mix although the reality is that it won't necessarily solve the problem, according to Michael.
He realised this ahead of the Atlanta 1996 Olympics, which he called a "defining moment of my career," becoming the first man to win Olympic gold in the 200m and 400m.
But given Michael had set out to change the game and do what had never been done before, this required a new approach. His physicality, fitness and technique were refined – but what about his tools?
Through an exclusive partnership with Nike, Michael and his coach set out to create a pair of running shoes that would help propel him to glory. This took more than a year of collaborative innovation to land on the final product.
Reflecting on the build phase, Michael said: "When a problem is complex, we want to add more stuff [but sometimes the] solution is to take things away." And this is precisely what he and the team did to lighten the load and create the smoothest, most agile running footwear possible.
The end result was a now iconic pair of bespoke gold shoes. Although there was an initial temptation to make the material appear reflective, this was quickly reversed in favour of gold, having concluded a reflective material would appear too much like silver, or second place, a position Michael wanted no part of.
"I was only in the mindset of [winning] gold, nothing else mattered," he said – and, evidently, possessing this resolute mental state paid off in a big way.
What many are missing in their World Champs predictions is the mental side. Some athletes have developed a superior ability to manage pressure while some struggle with mindset and fail to duplicate the performances that got them there. #Mindset pic.twitter.com/ym9NhlqDWR

— Michael Johnson (@MJGold) July 24, 2023
Entrepreneurial athletics
Another headstrong and determined individual we had the pleasure of sitting in front of at Infosecurity Europe was Sitehop CEO Melissa Chambers, who joined Plexal's Innovation Ecosystem Lead, Diane Gilbert, for a conversation about her journey as founder and how she overcame those obstacles.
"Every startup founder faces similar things. Is your idea good enough? Do you have the resources to make it succeed?" Melissa highlighted. "But joining Cyber Runway made it seem almost too easy with the support from Plexal and the cyber ecosystem, which is uniquely collaborative."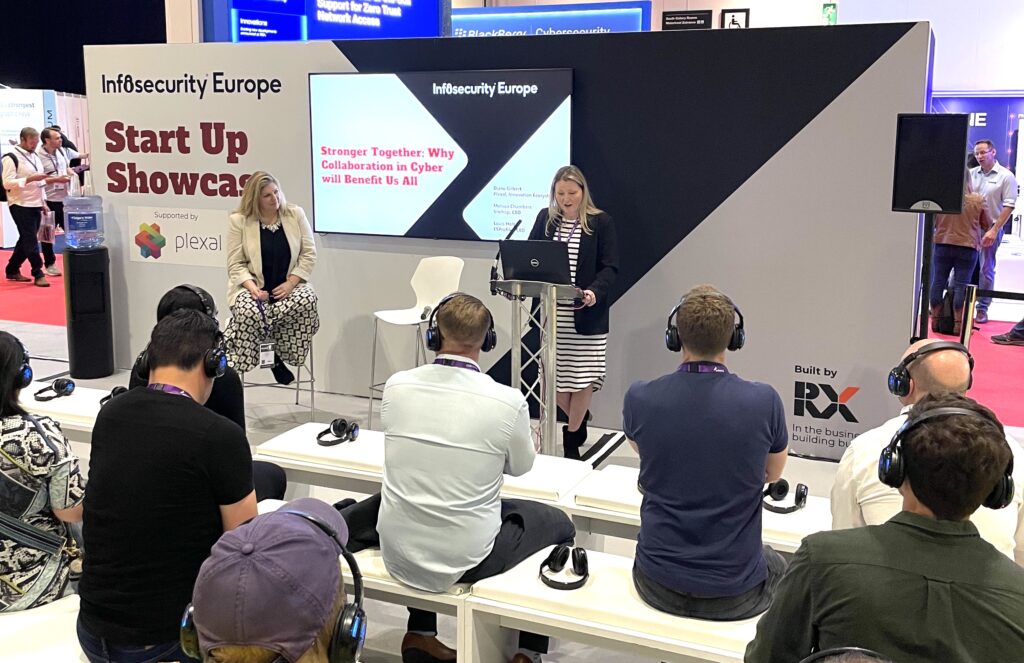 Melissa is a serial entrepreneur but also an alumnus of Cyber Runway, having completed the Launch, Grow and Ignite programmes, so like Michael, she's very well placed to bring an entrepreneurial perspective around challenges, innovation, collaboration and resilience.
"As the mother of six startups, I feel like I've been there and done that," she said. "If it's a good idea, my advice is to give it your all and have fun while doing it. A lot of founders will question whether they're good enough and face imposter syndrome. But give it everything you've got."
Given that Melissa has worked with countless fellow entrepreneurs as part of Cyber Runway on various cohorts, Diane asked whether there were any doubts over being open to collaboration initially, knowing how founders can often be quite closed off with tunnel vision. Melissa said it was the opposite. "Making connections has been very important for us," she detailed. "Knowing we've got so much support feels good.
"Joining an accelerator like Cyber Runway is a really good thing to do and you'll get the most out of it if you really commit yourself because there are so many opportunities. Don't wait for someone to hand it to you, go get it."
The fundamentals
Finally, another highlight of our time at Infosecurity – outside of the arcade games and free cocktails – was seeing none other than Plexal's CCO and Head of Innovation, Saj Huq, take to the same stage as Michael Johnson (Saj's sporting hero) an hour later.
Laying out the state of the cyber security market broadly, Saj reinforced how everybody and anybody can be affected by attacks, with 83% of frauds today being cyber-enabled. "In the same way as cyber was exploited to cause loss to somebody's 90-year-old granny, it can cause harm to the largest and most sophisticated governments, big industry and global technology companies too," he said. "It can be the largest financial institution in the world, just as much as it can be your local newsagent that's branched out to offering e-commerce services over the web."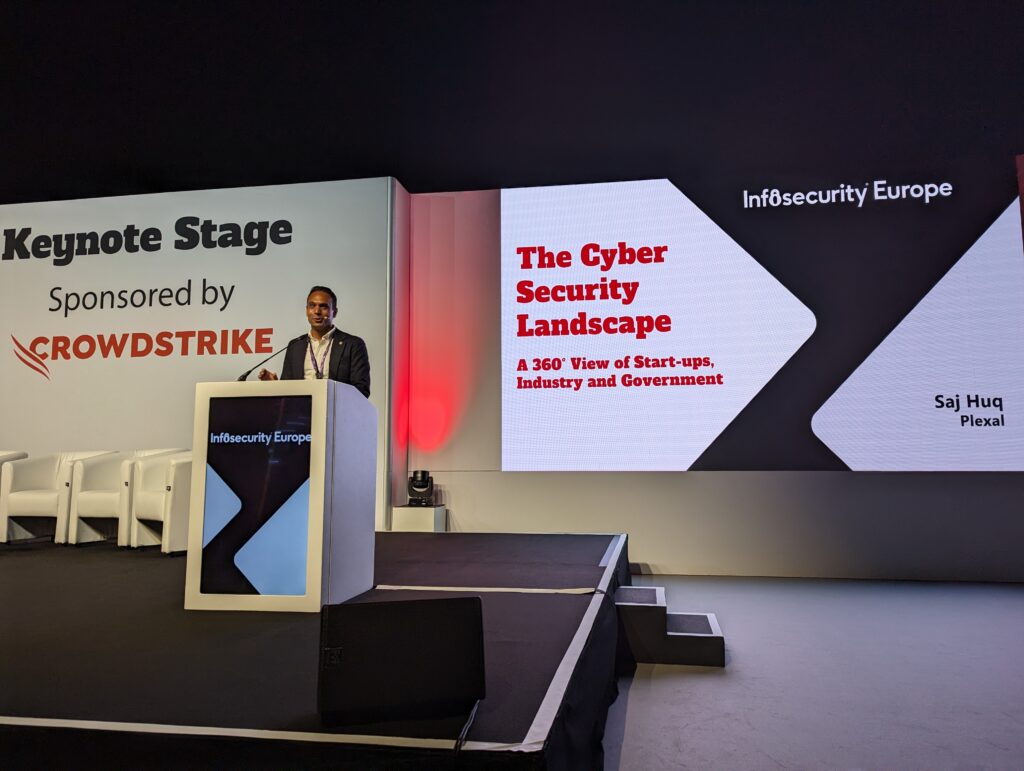 The aim here is ensuring all parties are coming together to create solutions that are as robust as possible in the face of these rising threats, which is why Plexal's role in closing the gap between organisations – small and large, local and global, private and public – is so pertinent.
Aligned with Michael's earlier point around problem diagnosis and the fundamentals, Saj detailed: "We now have a maximal understanding of the flaws and deficiencies of the internet – and we must apply those lessons to the future innovations that are going to similarly transform society.
"The cyber community is one of the best in the world – and bound by a shared sense of purpose and mission. We are all here because we want to be part of the solution. And having an opportunity to contribute to solutions which safeguard our national security and prosperity is what motivates me every day and why I love working in this sector."
On that note, seemingly there's only one thing for us to do: "commit and dedicate yourself just as much to the things that are necessary and fundamental, as the things that you're good at."
The result? We'll be a World Champion, of course.
Stay tuned to our social channels @PlexalCyber on Twitter, Plexal Cyber on LinkedIn and sign up to our Cyber Community newsletter for more updates on our cyber security programmes.