Chris Rossi, Cara Davis and Jedidiah Duyile are all familiar faces to Plexal members. As part of The Squad, they're tasked with building the Plexal community, planning events, making introductions and generally keeping everyone happy – no small task for a community of over 600 people.
Got to dive into a client meeting but haven't sorted out childcare? They've got you. Interested in what a fellow member does? They'll broker an introduction. Need a local restaurant recommendation? Not a problem.
These three squaddies go out of their way to get to know each of our members, and have even become friends with them both inside and outside of Plexal's walls. So we thought it was about time we sat down with them to learn more about what The Squad does, and what their approach to community building is.
For those who don't know, what exactly does The Squad do?
Jedidiah : We really act as the connectors and a member's first port of call. If someone needs some graphic design help, we'll point them to Plexal's professional services companies. Or it could be that they want to do a launch event, get an intern, buy some new office furniture or find out where to go for vegan food nearby
Chris: From the moment they come into Plexal, we're here to help them grow and connect them with the right people.
Cara: It's really about making our members feel as comfortable at Plexal as they do in their own living room. We want them to feel like they can come to us about literally anything or approach a fellow member as they would their housemate.
Chris: That's right, I think a lot of what we do is just breaking the ice. There are so many amazing companies working here that are looking for people to partner with, but they'll often be too shy or polite to introduce themselves. Sometimes our most important role is simply facilitating communication between members.
Do each of you have a unique role within the team?
Cara: I'm the lead community squad member, so I help members get in touch with the Here East, Plexal or Hackney community. I also work with our professional services companies and help our members with internship and apprenticeship schemes. One of the other big parts of my role is running community events like our fortnightly Members' Night and our Women in Tech lunches, which is a lovely way for the women working in Plexal to get together and swap notes and advice with each other. That being said, engaging with our community is something each of us does: Chris is instrumental in keeping the football club going, while Jed recently helped organise an amazing event for Badu Sports, one of our members.
Jedidiah : My role is more focused on operational readiness and helping members feel comfortable when they're at Plexal. Whether it's keeping the caffeine flowing or making sure the furniture's placed correctly, it's my job to keep the workspace looking amazing.
Chris: I'm the membership squad member, so I'm responsible for setting up and updating contracts, as well as onboarding new members to the space so they have everything they need to get started.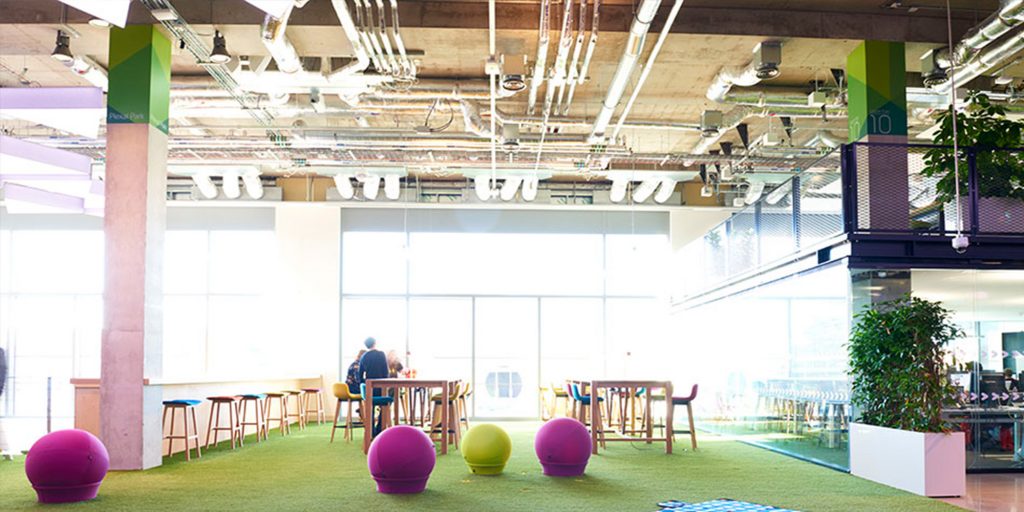 It sounds like you'll do just about everything for a member…what's the strangest request you've had?
Cara: One member wanted me to do pick up their laundry for them and take care of their kid while they dived into a last-minute meeting. I said yes to the child minding, so long as I didn't have to change any nappies!
Jedidiah: I don't know if this is strange or not, but someone asked me for a lanyard in each colour because they collect them. They were so appreciative!
Chris: I can't think of anything!
Cara: That's because you're so obliging you'd do anything!
So looking ahead for a bit, what does 2019 hold for Plexal members?  
Jedidiah : A lot more fun. The 2018 Christmas party, which Cara did an amazing job of planning, showed us that allowing our members to have fun together was more effective at breaking the ice than more formal networking events.
Cara: Nothing breaks the ice like a bucking bronco!
In terms of what we'll be focusing on for 2019, we're fast approaching full capacity for Plexal membership so it will be less about getting new people in and more about making our current members the happiest in London and strengthening the community.
Chris: We're also going to see a lot more members focused on mobility and cybersecurity. We've already got the likes of Ford, Wagonex and Bird here (not to mention all the mobility innovation taking place around Plexal). And with LORCA having just welcomed its second cohort of cybersecurity scaleups, this really is the place to be if you work in cyber.
Cara: We've got some big launches for Plexal members and some very interesting collaborations coming up, if I can throw in another teaser.
Sounds intriguing! Just before you go, could you tell us why you think our members come to Plexal – and what keeps them here?
Cara: I think we have the most diverse facilities and membership than any other workspace in London. And while I could tell you more about our community events, let's not forget that Plexal is also a great place to actually do work: it was designed to give people the headspace they need to build their business and there's no shortage of quiet spots to get your head down and concentrate.
Chris: The Here East community is also fantastic: you've got two universities, a 3D printing company, a major fashion retailer and creatives all in one place. How many tech campuses have so much diversity? It's great to be a part of that.
Jedidiah : Everything we do is tailored to the client, nothing is one-size-fits-all. We really take the time to understand a member's business and what they need.