We spoke to our member Mete Coban, chief executive of My Life My Say and Labour Councillor for Stoke Newington, about his latest campaign that's calling on the country to register to vote on 19 April.
The first time Mete Coban was able to vote, he was on the ballot himself. A 21-year-old Mete was then elected as the youngest ever Councillor in the London borough of Hackney for Stoke Newington.
Despite people around him telling him he was too young, Mete was determined to bring about change from within the political system and in particular he wanted to "stand up for minorities". Mete traces this back to when he was a child and his family arrived in London undocumented from northern Cyprus, which created issues with getting their identity confirmed. He then grew up in Hackney in east London, where he says the people around him "didn't have a lot of aspirations for their future" and didn't think they could make any difference.
But he also realised a career in politics could only enable him to do so much.
As well as being a Labour Councillor for Stoke Newington, Mete has been awarded an MBE for his work with My Life My Say, the non-partisan organisation he founded in 2013 to get more young people engaged in democracy.
My Life My Say holds democracy cafes all over the country as well as in Europe and the US – inspired by the coffeehouses of the 17th century – where young people get together to discuss the big issues affecting them. It also holds regular events aimed at encouraging young people to become activists for change, and ran a number of campaigns in the lead-up to the EU referendum to encourage young people to have their say. After the vote, the organisation created an All-Party Parliamentary Group for a Better Brexit for Young People to heal divisions and bring together leaders from across the political spectrum.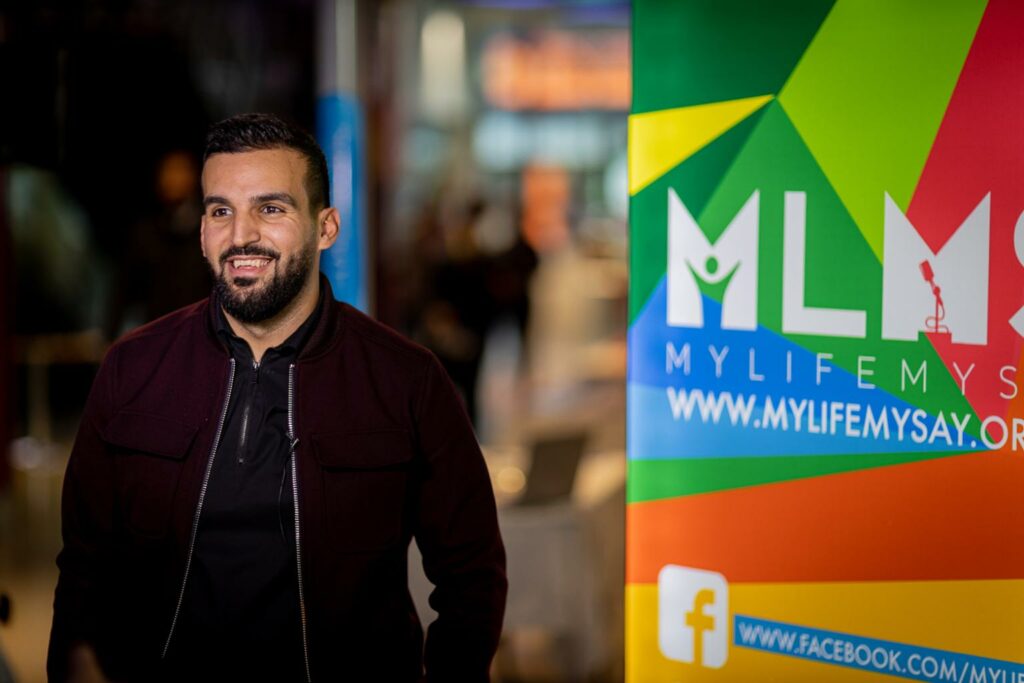 "There are so many reasons to register to vote, including the fact that it can help with your credit rating, but the most important reason is that it makes your opinions matter when it comes to the pledges and policies politicians draw up."
Re-launching National Voter Registration Day
My Life My Say's most recent initiative is a campaign aimed at getting more people to register to vote at gov.uk/register-to-vote. The organisation has teamed up with ShoutOut UK, a non-partisan social enterprise, to re-establish National Voter Registration Day on 19 April in 2021. Plexal is also an official supporter of the campaign.
The aim? To encourage democratic participation in local, regional and national elections. Up to nine million people are missing from the electoral register and less than half of young people (18-24) in the UK are engaging in the voting process. Mete wants to change this. "There are so many reasons to register to vote, including the fact that it can help with your credit rating, but the most important reason is that it makes your opinions matter when it comes to the pledges and policies politicians draw up."
And Mete says this matters now more than ever for young people. "As we come out of the pandemic, young people are facing huge issues around employment and mental health. They'll live with the long-term consequences so they have to be at the heart of the conversation."
Creating a non-partisan space for democratic engagement
Mete first realised there was a need for a truly non-partisan organisation like My Life My Say when he was in university and noticed that every organisation that was involved in encouraging democratic engagement has some sort of political agenda. "I wanted to create a space where people –especially young people – could come together to discuss the issues," he says. "I want them to engage with democracy in a number of ways, from registering to vote to actually turning up to elections or being more involved in local politics. That's the only way they can shape the world at both a local and national level. It's about having a seat at the table."
Healing divisions after Brexit
One of the most important periods in My Life My Say's journey was in the run up to and the aftermath of the EU referendum. While it's easy to believe that the majority of young people wanted to stay in the EU, Mete saw a different story when speaking to youth in some parts of the country. "It's simplistic to say all young people wanted to remain," he says.
Determined to represent the full spectrum of opinions, My Life My Say worked with the London School of Economics to produce two reports that painted a more nuanced picture and unveiled some major trust issues. "We found that there's a massive information deficit among young people about how democracy actually works. As an organisation we think it's a myth that they don't care about politics, because of course they want a good job, a roof over their heads and to be able to live a good life. The problem is they don't think traditional forms of politics will do anything to change their lives. Young people aren't represented in politics and there's a huge amount of distrust among citizens and the political class."
Restoring faith in democracy
But for all its deficits, Mete is still dedicated to democracy. "It's still our best option, it just needs some tweaking," he says.
The politician is also pleased to see that so many young people are engaging more meaningfully with democracy. He thinks the EU referendum was a wake-up call for a lot of young people and that it's ignited a passion for politics. "Voter registration among young people shot up during the 2017 general election because Brexit made them really think about what political decisions meant for their futures. That led them to engage with other issues like climate change and the issue of Scottish independence. Things are changing, we just need politics to keep up by becoming more representative."
And Mete firmly believes that the most important first step is making sure everyone is registered to vote so the electoral role truly represents society.