As our Cyber Runway cohort graduates from our accelerator, we brought the community together for workshops, networking and plenty of discussions on everything from how to achieve a closer product-market fit to what makes the perfect pitch.
If you couldn't make it, we've collected all the best insights and nuggets of advice that were shared…
On making the most of an ecosystem
Ecosystem was the word of the day.
"Now I can go out and talk about cyber without fear," Cyber Warrior founder Jude Osmore said. He told us that he wished he'd engaged with the ecosystem earlier because it's helped him shape his idea and gain confidence to get his cyber startup off the ground.
David Studd, Business Development Director at Anzen Technology Systems, said it's important to collaborate and get feedback from outside your business if you want to achieve a close product-market fit.
And our enterprise panel stressed that they're here to help startups and called on them to ask for help more and demonstrate how you can help their customers. But there's no need to get exclusive: tap into a range of accelerators and corporate partnerships.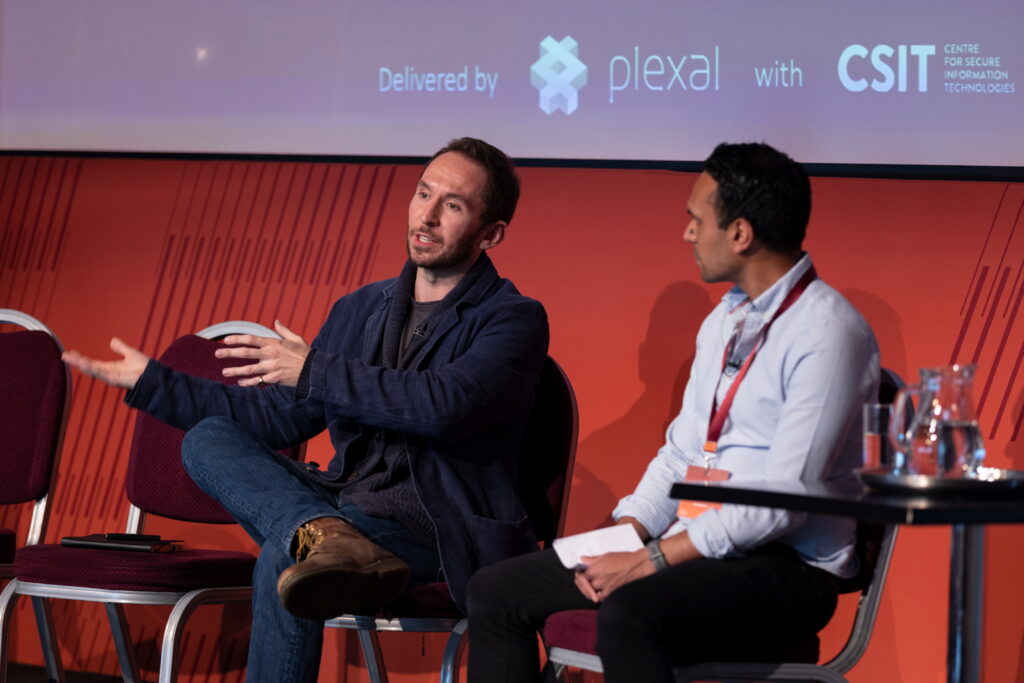 On being clear about your target market
In his fireside chat, Rebellion Defence's co-founder Oliver Lewis outlined the challenges of having the government as a single client but said he's resisted the temptation to deviate and sell to industry too. He recognised that the defence sector was being under-served and believes that part of the reason for this is that suppliers are also selling to the private sector. Determined to disrupt the market, he's stayed laser-focused on who his company is serving – although it's taken "extraordinary levels of patience".
On getting pitch perfect
Rebellion Defence's co-founder Oliver Lewis knows what he's talking about in this department: the startup has recently raised $150m and has achieved unicorn status. He suggests you focus more on telling stories and think of pitch practice like a theatre rehearsal. He says we remember people who are great storytellers and that helps you if you're in a noisy market.
On lessons in securing investment
Reflecting on Rebellion Defence's funding track record, Oliver thinks they could have asked for more in earlier rounds. He also revealed that he deliberately chose investors that would challenge and push the company. For example, his investors pushed Oliver and his co-founder to focus on sales processes and creating playbooks.
On how to achieve a closer-product-market fit
Mandeep Thandi, who works at the Chief Resilience & Security Office at Lloyds Banking Group, revealed how the company is working with startups in the ecosystem. The organisation offers startups valuable advice during an initial low-touch proof of value or demo, which the startup can use to build solutions that match a real-world need and decide whether they want to proceed to the next stage.
Plexal's Innovation Ecosystem Lead Rob Kearney also advised startups that want to achieve a close-product market fit to take part in initiatives like NCSC For Startups and make the most out of meetings with industry leaders to understand where the market is going rather than treating it as a sales opportunity.
On better pilots
There can be a lot of skepticism about pilots among startups. But Exalens, which is building a proof of concept with IBM and Plexal, had some great advice. CTO Ryan Heartfield advised startups to choose a pilot or proof of concept project that aligns with your roadmap. He bemoaned projects that require a huge time investment from startups but said the Mission Technology Integrator is an example of a fair framework he'd like to see become more common.
Ryan also warned startups taking part in proofs of concepts to be fiercely protective of their intellectual property because that's what investors will care about.
On being mission-oriented… and impressing IBM
"If you can bring innovation to address real-world mission you will fly," Martin Brettle, Senior Managing Consultant at IBM told us. He also revealed what impressed the company about Exalens: the startup was extremely clear about what it would use the funding for and, most importantly, it was clear about how it could help IBM with the particular challenge in question.
On better communication
If you want to secure that initial proof of concept with a large enterprise or take things to the next stage, make sure you're making life easy for the innovation champions within those organisations. BAE Systems and Lloyds Banking Group advised startups to help them explain what they do to both business and technical colleagues. Make it simple to make an impact.
On recruitment tactics
Giorgia Cacace, General Manager at Secure Impact, said the startup achieved much better results when it started headhunting for talent itself. The company also engages with fellow Cyber Runway member CAPSLOCK and the National Cyber Security Centre's CyberFirst programme.
On securing investment if you're outside of London
Our panellists from Investor Ladder and Osprey Capital Partners advised startups to consider investors in the US – especially if you're planning to expand there – and to be ambitious about how much you ask for.
And if you're looking to connect with London-based VCs, they say you should try to physically meet investors as much as possible and make yourself known to them. "Investors don't have a Sat Nav."