Plexal recently met with Maryland Governor Wes Moore in London during his first international trade mission in April, committing to be a part of the US state's exciting new Maryland Global Gateway Soft Landing Program.
We've joined the Global Gateway as the seventh official international exchange partner and the first in the UK.
As part of the exchange agreement, businesses will have the opportunity to explore Maryland for a possible location or expansion, receiving a "soft landing" comprising affordable rates, resources, facilities, advisors and more on arrival. Meanwhile, Maryland companies can explore the market in the UK, backed by a grant and additional support from the Maryland Department of Commerce.
Applications open until 17 May 2023 – details here.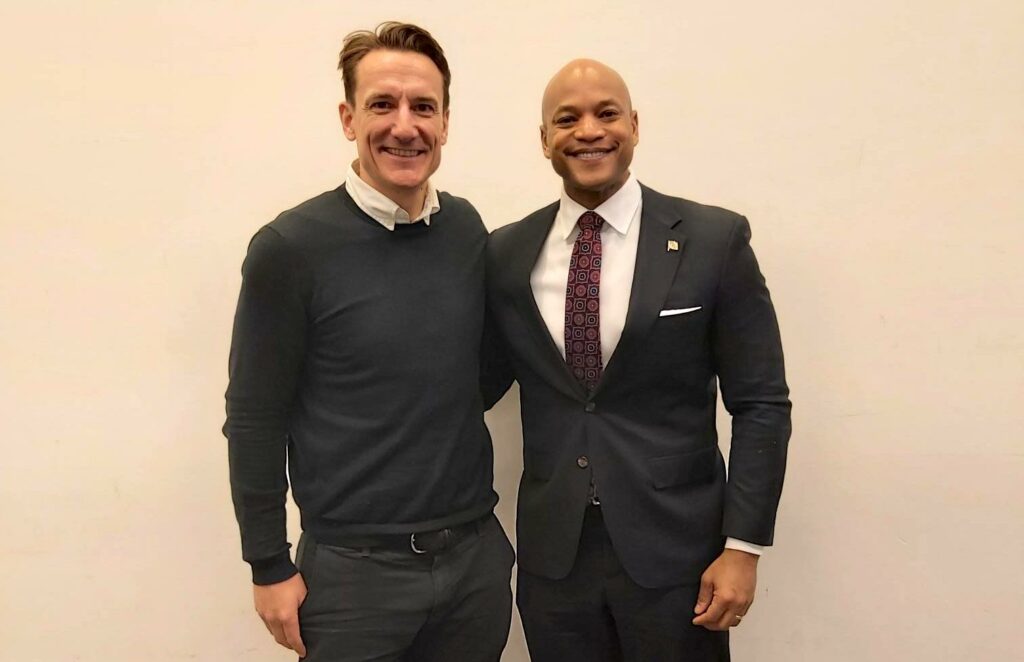 Pictured above: Dave Rowley, director of Growth at Plexal, with Maryland Governor Wes Moore
A demonstration of the programme in action, UK cyber security company Goldilock, which has participated in our NCSC For Startups programme, has announced plans to locate at soft landing pad partner Dreamport, an innovation facility in Columbia. Entering the Maryland Global Gateway in autumn, Goldilock's CEO Tony Hasek will relocate to Maryland in September.
This follows the transatlantic partnership Plexal announced in September 2022, as reported by ADS, with Dreamport, Catalyst Campus and Cyber Capital Partners. This forms part of our mission to advance national security innovation across emerging technologies by supporting startup and scaleup growth.
This was facilitated by the trade, investment and economic development advisory firm OCO Global, which leads the Maryland Department of Commerce Office in the UK and Ireland.
During the NCSC For Startups trade mission for RSA delivered by Plexal, Goldilock's COO Stephen Kines met Kimberly Mentzell, Director of Cybersecurity and Aerospace at Maryland Department of Commerce, who has been instrumental in their move to US.
During this time, Plexal CCO Saj Huq also connected with Armando Seay (pictured below second from right), co-founder of Maryland Innovation and Security Institute (MISI) which ran Dreamport. Saj is hopeful that, like Goldilock, other companies will use this opportunity as one that will allow them to access the US with ease.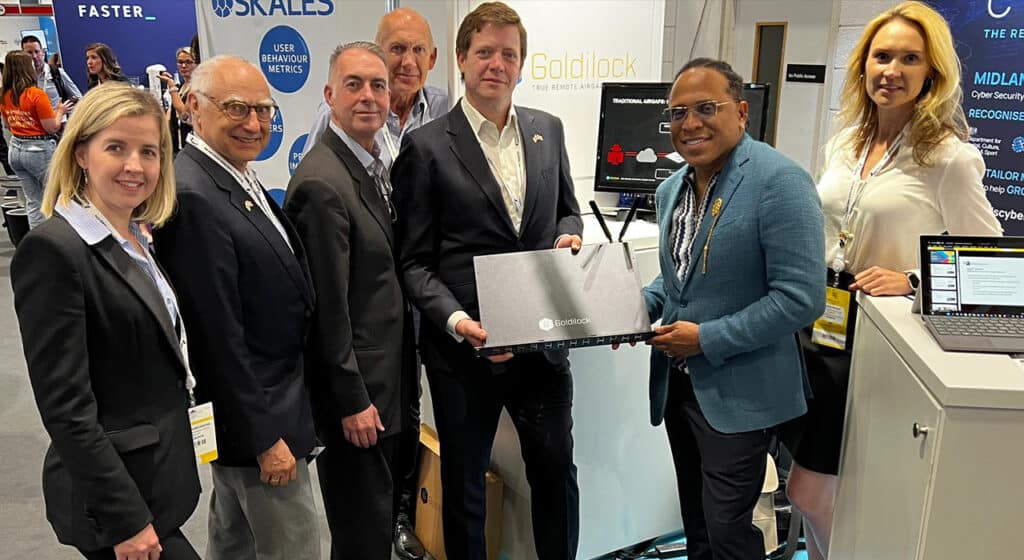 Stephen Kines, Goldilock co-Founder and COO (pictured centre above), says: "As a startup, the Maryland Global Gateway initiative soft landing program enables us to test the US waters, familiarise ourselves with opportunities and network prior to entering the market with a larger team."
Discover more about the Maryland Soft Landing programme here – the deadline to apply is 17th May 2023.