It's official: our second Cyber Runway programme has come to an end. And like proud parents, we're left shedding a tear while simultaneously grinning from ear to ear as the startups we've worked alongside since September 2022 have graduated, leaving us with a real sense of pride.
But first, let's remind ourselves of the purpose of Cyber Runway. Backed by the Department for Digital, Culture, Media and Sport and delivered by Plexal, Cyber Runway was designed to address some of the biggest challenges facing cyber security, such as diversity and inclusion and regional representation, to support the most promising innovators at various stages of growth.
Plexal is committed to developing places for innovation and closing the inequality gap between the South East and rest of the UK, so it was incredibly encouraging to see how dedicated people were to attend our Cyber Runway Graduation Conference at the Custard Factory in Birmingham.
Leaders travelled from Dorset, Aberdeen, Belfast, Wolverhampton, Oxford, Hull, Manchester and even Croatia. But the real round of applause goes to Floyd DCosta from Block Armour, who made his way to Digbeth all the way from Singapore!
For many founders, this was the first time they'd gathered in person, so it was a fitting way to bring the programme to a close – with new relationships just beginning.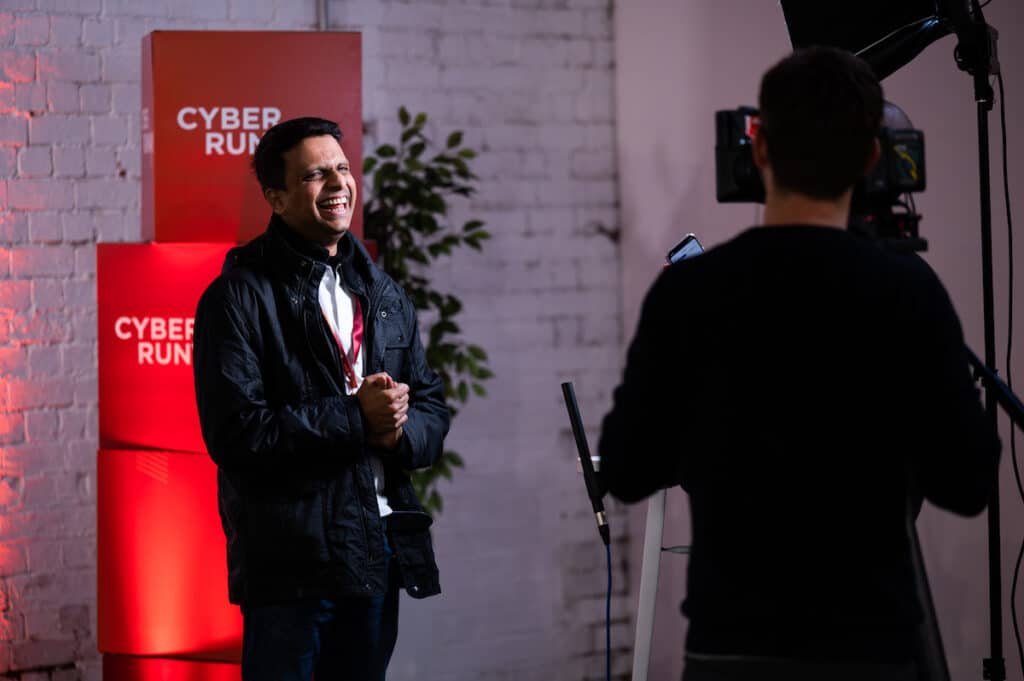 Once cyber ecosystem, always cyber ecosystem
The need to engage with the cyber ecosystem was a standout theme during the graduation, which ties in with pillar one of the National Cyber Strategy and the need for a whole-of-society approach to cyber security. Panelists throughout the day detailed the importance of finding partners to collaborate with, recognising events like this as the first step to get the ball rolling.
Plexal CCO and head of innovation Saj Huq kicked off the day with an explainer on the collaborative ecosystem we've built to bring startups, government and industry together to solve society's challenges. As a member of the UK government's National Cyber Advisory Board, Saj also explained the importance of the ecosystem within the broader National Cyber Strategy and the evolution of the UK cyber sector through innovation since 2016.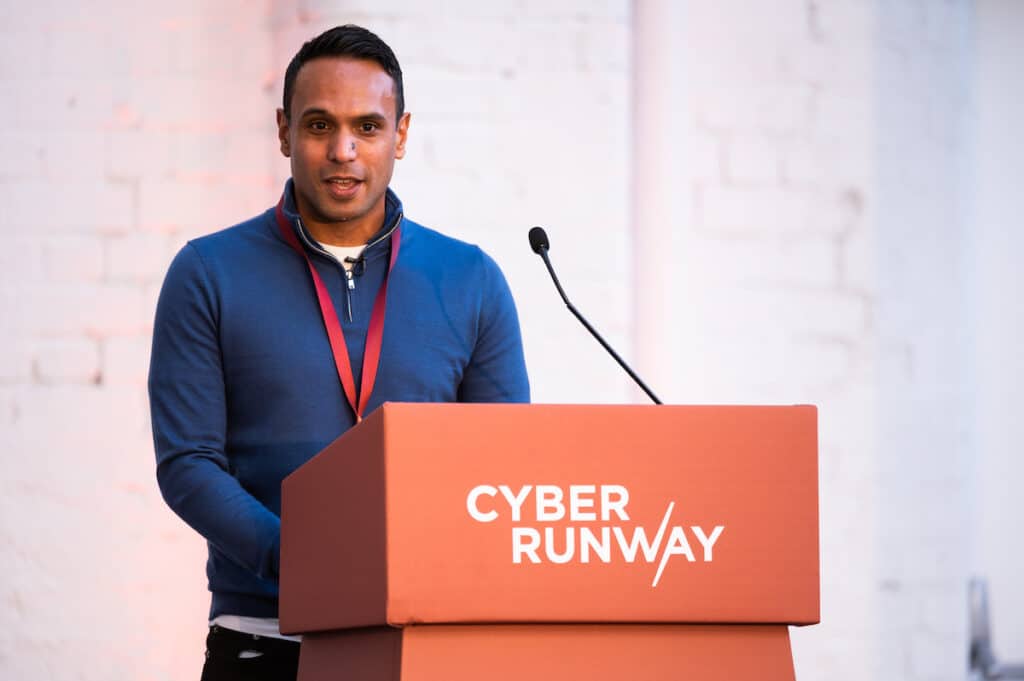 For example, successful founders who have come through LORCA – another programme we've run with DCMS – are now actively supporting early-stage companies, giving back to the community they themselves have flourished in as mentors to those now on the Cyber Runway accelerator. For context, 72 cyber startups that have gone through Plexal's LORCA accelerators have collectively raised over £300m, generated more than £68m in revenue and hired over 800 people.
Saj adds: "Having that ongoing connection to those who have gone through the growth journey can only be a source of insight and inspiration to act as a virtuous cycle. This demonstrates how we've got the flywheel turning, with successful entrepreneurs supporting the next wave, which is often a key ingredient in building sustainable and growing ecosystems."
The "VC winter" is coming…
Our second session assembled Saj alongside our CEO Andrew Roughan and Erika Lewis, director of cyber security and digital identity at the newly launched Department for Science, Innovation and Technology (DSIT), who previously sat within DCMS. Highlighting the recent government reshuffle and creation of the Department for Science, Innovation and Technology, Erika explained the government's support of digital will not waver.
Andrew emphasised the importance of programmes like Cyber Runway and how they helped to support the UK's growth and innovation ambition. Equally, caution was offered in the form that a so-called "VC winter" is coming. This is the result of an overvaluation of UK tech companies that could bring about a lack of funding options. Countering the (Ned) stark warning, however, Andrew added: "Good companies will always get good funding – so founders should focus on building good businesses and funding will come later." Building good businesses is an essential component of Cyber Runway, with wraparound support designed to empower founders to grow solid companies.
During the session, the earlier theme of ecosystem returned. It was noted that the government needs to be more receptive to being sold to and Erika reasoned that DSIT is conscious of this, so new, dynamic frameworks are always in development to create progress.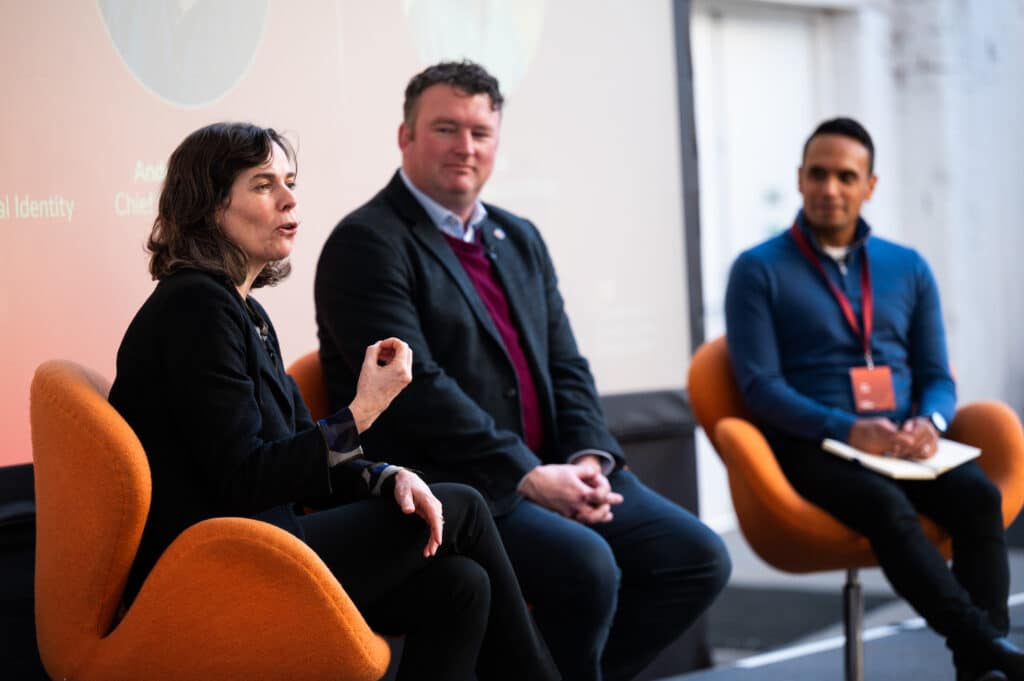 Connections, confidence and content
Post-lunch, Plexal innovation consultant Arutyun Arutyunyan hosted a panel including three Cyber Runway founders: Melissa Chambers from Sitehop; Clare Ryan from ITUS Secure Technologies; Sarah Knowles from Shift Key Cyber.
It was truly encouraging to hear how Melissa felt that the Launch and Grow streams had provided her with confidence to communicate to both potential investors and customers. As if that wasn't enough, the impact of those conversations was huge as she went on to reveal that Sitehop has just successfully closed a £1m seed investment – news that had only surfaced publicly that very morning! With plans to enter Brazil and introduce product enhancements, the goal is to also hire another 20 people by the end of 2023. Melissa added that Cyber Runway Ignite, which was designed specifically to help support high-potential cyber leaders develop and rise to new heights, had created more access than she could have ever expected.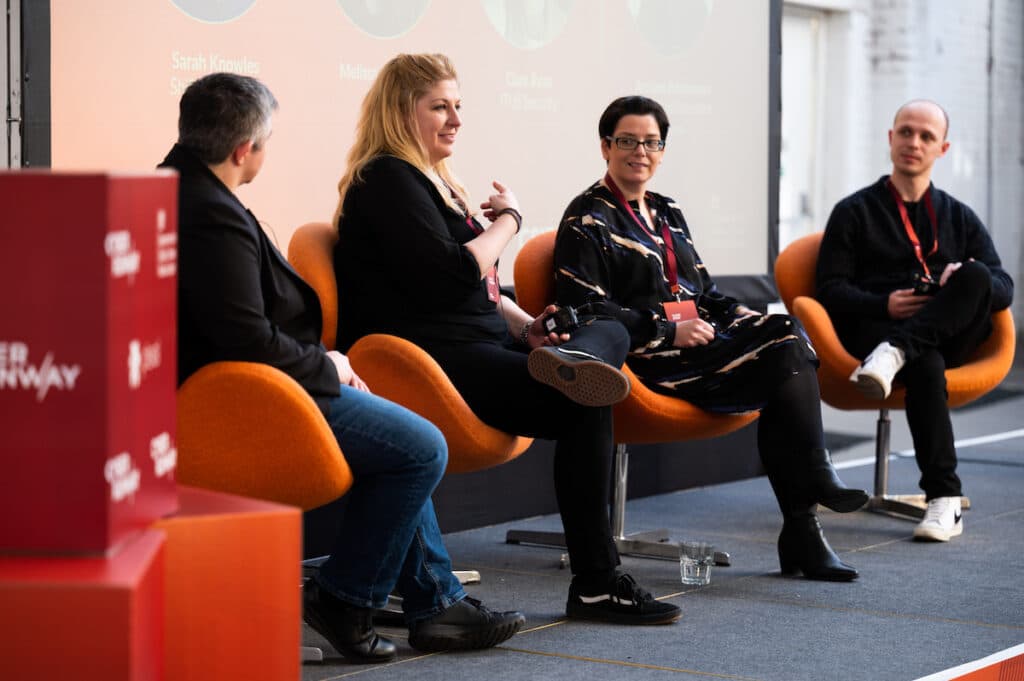 Meanwhile, Clare from ITUS revealed how Launch had given her so many connections across the cyber ecosystem and an appreciation for just how vast the UK industry is, as well as how much potential there still is for growth. Her message for other companies considering joining Cyber Runway and other accelerators was this: network, network, network! Clare also challenged more angel investors to make their presence felt within the ecosystem and support rising founders.
Finally, Sarah from Shift Key Cyber commended the value of the content offered during the programme. As she and her co-founder recognised just eight months ago, they needed to go full-time, the intensity of the Launch Bootcamp support was just what they needed, while the Grow stream helped them to adapt their thinking through all their stages of growth.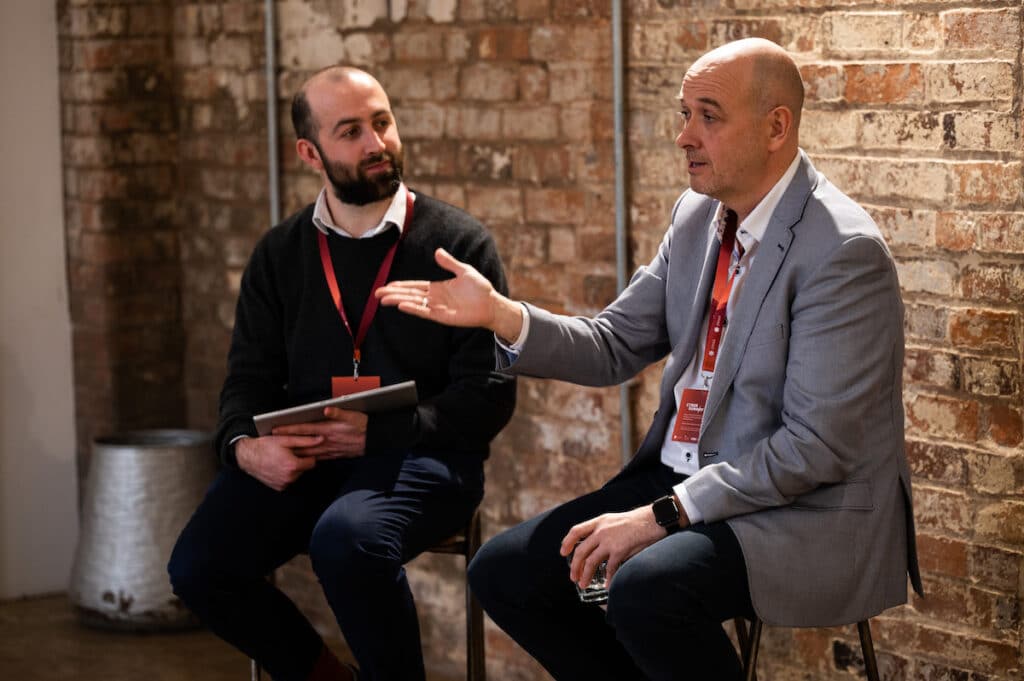 DiSH of the Day
What we've seen over the years is that it's not uncommon for founders to pop up across multiple programmes – sometimes straddling two at once. Plexal innovation ecosystem lead Emma Marshall touched on this theme with Amicis Group CEO co-founder Nick Ashton who's participated in both the Digital Security Hub (DiSH) and Cyber Runway. Discussing the differences between both – such as physical space vs content – he noted both were hugely beneficial for supporting his company vision and mission.
The Rybec Group directors Alaistair Kennedy and Chris Eastwood, meanwhile, noted DiSH was incredibly useful for them as first-time founders and how important it was to them that the Manchester ecosystem was being supported. While Cyber Runway is very much national-focused, DiSH has been designed with a target of supporting 500 startups to create over 1,000 jobs in Greater Manchester – an area with a surging security sector and GCHQ presence.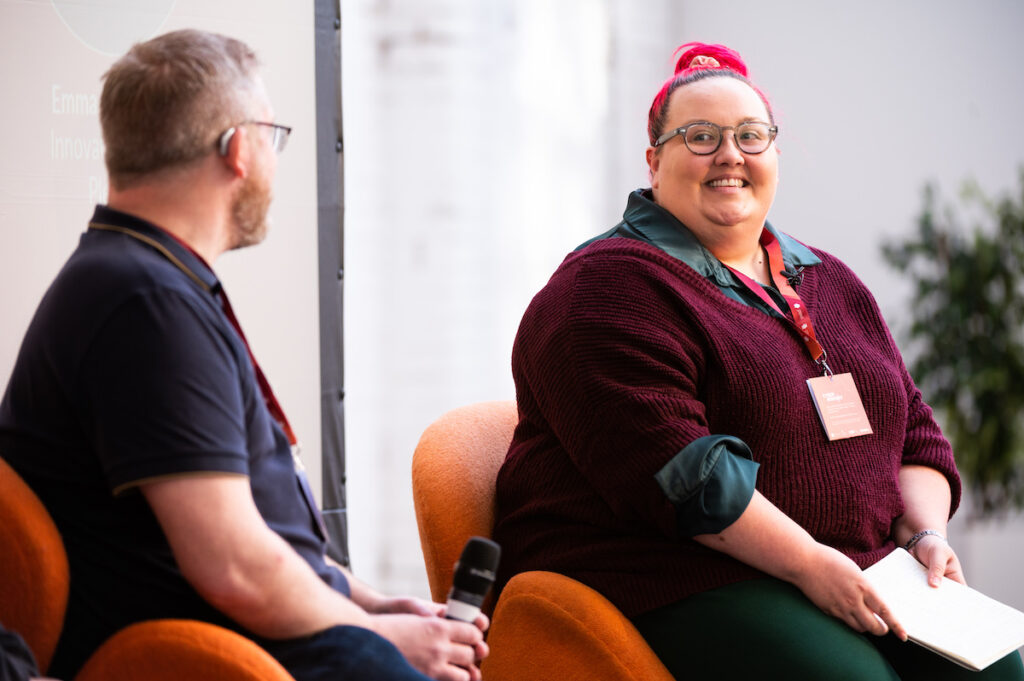 Wrapping up the event, innovation consultant Tom Horner hosted a panel on collaborating with the government. Extracting guidance from Iain Wallace of Vivace/ACE and Steve Whiteman from Daintta, they agreed we must leverage the power of the ecosystem for effective partnering.
This requires two things: (1) Careful choice of partner organisation to create a genuinely two-way partnership (2) SMEs working to really understand the needs of both primes and the public sector to pitch their proposition effectively.
Once more, we're incredibly proud of all our Cyber Runway startups have accomplished and are excited to continue rubbing shoulders with the forward-thinking founders behind them in the years to come as we continue to build the UK's most connected cyber ecosystem.