A software engineer by trade, educated in the fields of information and communication science, Aliyu Yisa felt a strong desire to combat cybercrime and protect people online. This fuelled his pivot to cyber security, a field where he could actively work towards these goals. In 2021, Ali decided to take his passion a step further by embracing entrepreneurship and co-founding Fezzant.
Fezzant's aim is to make cyber security and learning experiences accessible and inclusive for all, with a focus on helping organisations close existing gaps in security culture through development of tailored cyber security experiences with accessibility at their core.
Intrigued by the NCSC For Startups programme that we at Plexal deliver in partnership with the National Cyber Security Centre (NCSC), Ali submitted Fezzant and was subsequently accepted into an intake last year, joining our shared mission to make the UK the safest place to live and work online.
But bursting at the seams with enterprising ambitions, Ali didn't stop there. Hot on the heels of launching Fezzant, Ali co-founded CyBlack – again demonstrating a commitment to ensure the cyber sector is as inclusive as possible. "CyBlack is a non-profit organisation growing the next generation of black cyber security talent," Ali tells us.
The initiative was launched by Ali alongside a handful of other industry peers, including Dr Iretioluwa Akerele, Simbiat Sadiq, Dr Omotola Olowosule, Onyekachi Anyalechi, Dr Jude Osamor and Febisola Olanipekun. Like many ventures though, it wasn't intentional; at least not to begin with. It started from a Twitter (now X) DM between Ali and Iretioluwa. "We'd been messaging and realised we were providing support for students individually – and some of the other founders had been involved in different volunteering activities too," Ali says.
And from a once private support community for cyber security students, CyBlack is now public and eagerly welcoming new members and volunteers to be a part of it. "We're on a mission to build a global community of black cyber security professionals," says Ali. "We do this through our community engagement, events, virtual internship, free training and other programmes."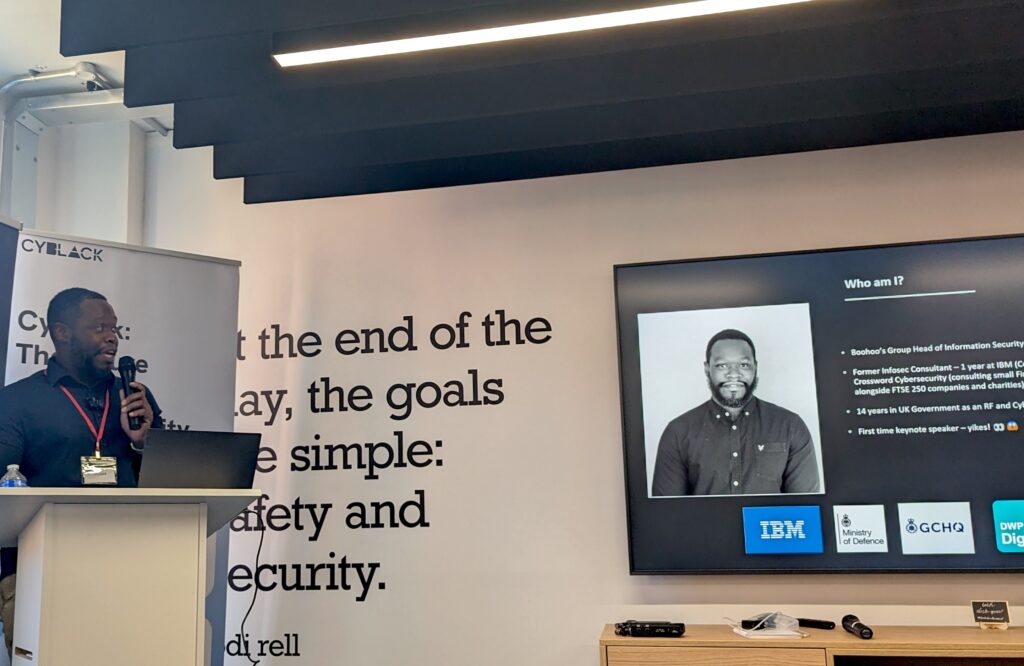 At birth, CyBlack existed as a Telegram group; a forum where students could ask questions and receive support and mentorship to overcome challenges they faced. Topical sessions spun out from there and the group continued evolving. "There wasn't really tailored support for black people trying to get into cyber security," Ali explains. "We started it because we didn't have it. Everyone knows diversity and inclusion is important but, when you're from an underrepresented background, the impact is profoundly different. For some, it means culture, values and maybe numbers in a chart. For us, it affects how you get a job in the field and whether you're able to reach your full potential."
As the group continued to grow, its impact was clear and the founders' joint efforts were formalised into the CyBlack organisation by the end of 2021, with a view of continuing "to provide black talent interested in cyber security with the knowledge, support and hands-on experience necessary to launch and grow a thriving career in the industry."
More recently in August 2023, the team held their second CyBlack Conference and Innovation Showcase, a hybrid event that took place over a couple of days – both online and at the Digital Security Hub (DiSH) in Manchester, the city where Ali is based.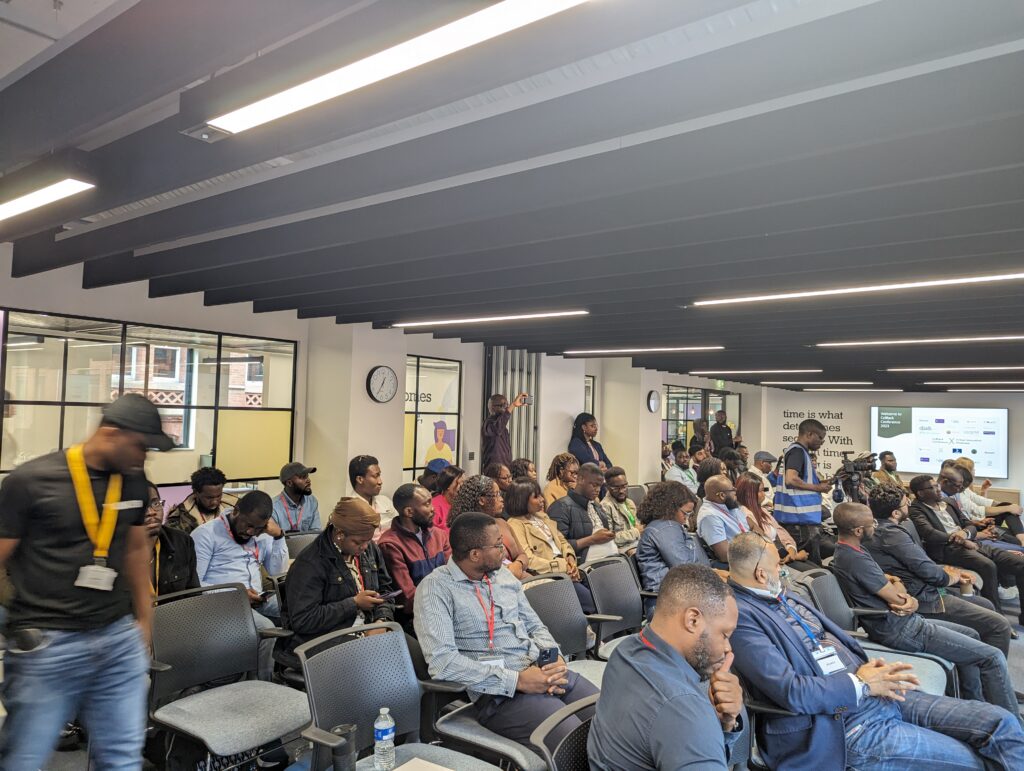 Explaining how the second edition of the CyBlack Conference improved on the first, Ali offers: "It was different because it was much bigger and more diverse. We had people from multiple professional backgrounds speak. We also had multiple open sessions where the audience contributed. We also had the first Virtual Innovation Showcase the next day, where black talent from multiple continents presented their innovative works."
Sharing his personal highlights, Ali calls the networking and connections "a gem," also adding: "Hosting the event and partnering with DiSH was perfect. The community of companies and professionals at DiSH joined sessions and interacted with our audience and speakers."
Fellow NCSC For Startups alumnus Simeon Quarrie, the founder of VIVIDA, a training specialist that leverages experiential storytelling, was among the speakers for the Innovation Showcase and left Ali in awe. "Simeon delivered an awesome talk in one of the most legendary kick-offs to an event I've ever seen," he says. "He's such a great storyteller. He really inspired us all and prepared the audience for the presentations."
However, there's one other highlight for Ali which very nearly gave Simeon a run for his money in terms of standout moments. "This part might sound silly, but the food was one of my main highlights," Ali confesses. "We had jollof rice for lunch. For me, because it was a black-led event, it was very important for it to reflect in the food. And people loved it!"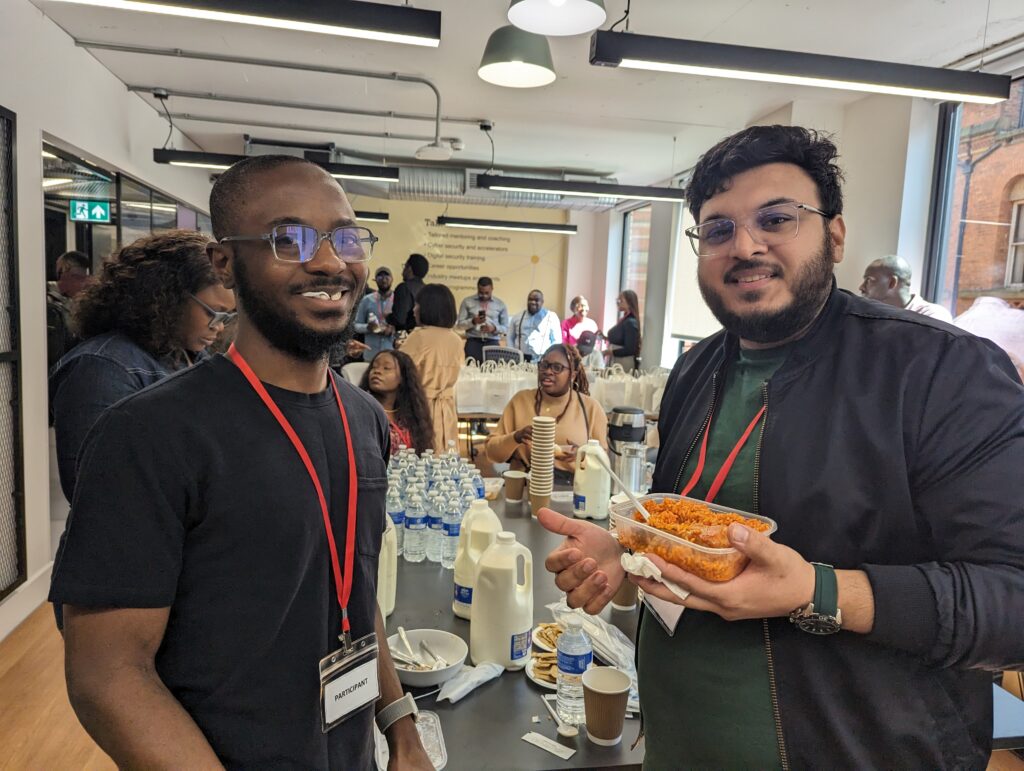 As with any business project, the build-up was intense – but thankfully the outcome outweighed that. "We were very stressed leading up to both events but seeing it all come together was amazing. The support we got from DiSH, Plexal and all our partners really made a huge difference."
In the same vein as Plexal's mission is to close the gap between organisations – startups, government and industry – CyBlack is keen to keep forging partnerships and collaborating with businesses and leaders, and anyone interested can contact admin@cyblack.org.
"We're actively seeking collaboration opportunities," explains Ali, detailing the importance of allies for the organisation. "We need CISOs, hiring managers, recruiters and startups – anyone willing to listen and support the mission. This includes hiring CyBlack Internship Alumni.
"We have some awesome allies from diverse backgrounds in Plexal, NCSC, DiSH and even in the US. Support can range from lending a voice to partnering or funding one of our programmes. You don't have to be black or a minority to provide support. We're pushing for diversity and inclusion, which means we welcome ideas and support from everyone."
While most CyBlack programmes are currently geared towards students, the team is working on building programmes to support those already working in the cyber security sector too, while events are open to all. "We aim to become a global community of black and minority cyber security professionals, serving as a foundation for future leaders to look back and say, 'this is where my journey began'," Ali envisions.
Closing with his perspective of how to ensure the cyber security industry is diverse, inclusive and equitable, Ali concludes: "We'll need everyone to make efforts to understand people from diverse backgrounds and engage with all the communities. CyBlack is here to assist companies improve their DE&I efforts and reach the black community in cyber security."
Best of luck to Ali – who recently furthered his place in the Plexal community as part of the Cyber Runway: Grow programme – and the rest of the CyBlack team on their mission.
Stay tuned to our social channels @PlexalCyber on Twitter, Plexal Cyber on LinkedIn and sign up to our Cyber Community newsletter for more updates on our cyber security programmes.