Plexal member BADU works with young people, families and schools in east London to reduce inequality and support young people at the most critical stages of their lives. And the organisation is raising £30,000 to provide 300 families in the local community with festive hampers this December as part of its That Moment When campaign.
The hampers will contain festive food, crackers, presents, supermarket vouchers for gas and electricity and activity packs. BADU has worked directly with schools in deprived boroughs in and around Hackney to identify families who would most benefit, and will tailor the contents of the hamper to each family.
BADU's That Moment When campaign reached 70 families in 2018 and 167 families in 2019. This year, because the pandemic has placed extra pressure on already struggling families, it wants to reach more parents and young people than ever before.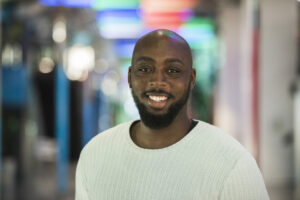 Founder Nana Badu said: "We've supported young people and families in east London for years, but 2020 has placed unprecedented pressure on people who were already struggling. Unstable incomes, unemployment, uncertainty, bereavement, isolation and the immense mental health pressures faced by families in some of the most deprived parts of London has been mounting during the pandemic.
"Our festive campaign is aimed at bringing some respite to the pressure and putting a smile on their faces. This is only one aspect of what we do at BADU, we have a huge task ahead to ensure young people in London have the same opportunities and that struggling families get the support they need."
How to get involved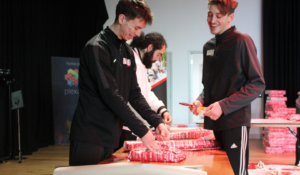 BADU is asking organisations and individuals to donate on JustGiving by the 6 December deadline or contact BADU directly to become a corporate sponsor.
The team have helpfully put together fundraising ideas, from giving up takeaways to doing a sponsored walk or jog around your house.
You can also:
Buy gifts from BADU's Amazon wishlist
Volunteer to be a driver or put hampers together (social distancing will be in place)
Supporting the east London community throughout 2020
That Moment When follows a huge range of activities that BADU has carried out this year to support people from low-income households as well as people who have been impacted by the pandemic.
Working with 12 schools and community organisations in east London, as well as volunteers such as Som Saa, a restaurant, BADU has provided toiletries, activity resources and 1645 food boxes for over 427 families. The organisation also offered an outreach service to the elderly in the community, hosted remote sports classes and launched a support helpline manned by a qualified mental health practitioner.
This activity runs alongside the mentoring sessions, after-school and in-school programmes BADU delivers throughout the year.
And in recognition for the support it's given the local community, founder Nana Badu was welcomed into the Football Association's Lionhearts squad in October 2020 (which paid homage to 23 inspirational individuals who have gone above and beyond during the pandemic).
Well done to the BADU team, and let's hit that £30,000 target together.