Nana Badu is the founder of BADU Sports and BADU Community: organisations that are using the power of sport and community to change the story of countless young people in east London.
He's also a member of OpenDoor, our inclusion accelerator. We asked the social entrepreneur what he wants to get out of the programme, and found out more about how he's been celebrating Black History Month.
How did BADU Sports and BADU Community come about?
The young people we work with give me the time of day mostly for one reason: they know I'm one of them. I moved to east London from Ghana when I was a 10 and was dealing with a complicated family situation. At one point I was living on my friend's sofa and barely had any money for food – that's a feeling that doesn't leave you, however different my life is now.
I was hungry, I was angry and I was not exactly a model student. But things started to turn around for me when I got into football. It gave me a reason to work hard and stay out of trouble – and that was the inspiration behind BADU Sports and BADU Community.
We work with really vulnerable people who are dealing with issues like depression, poverty, drug and gang culture and a general sense that life's unfair and there's no point in trying. We show them that there is a point. You can't underestimate the power of having something to strive for and having even one person who's got your back.
Through our programmes, events and mentoring, we create a support system both inside and outside of school that's really personalised. Our WhatsApp groups are always going strong with kids updating us about their progress or reaching out for help when they're in crisis. It's not always a linear, upwards journey – there was one student who was accepted onto his dream course but couldn't afford it. He was tempted to get back into selling drugs again but we managed to steer him away from that choice and help him get a job with us where he could earn money and become a role model for younger boys. To paraphrase a Frederick Douglas quote, we believe it's easier to build strong children than repair broken adults.
You've also been busy celebrating Black History Month on social media and with your upcoming events on 24 and 25 October. Why's this important to you?
Being black is a big part of my identity, and I'm proud to be black. That being said, there are some moments when I'm more aware of my skin colour. For example, when I'm on the train and I can see in someone's eyes that they're intimidated by me. I'm a tall, well-built man but I also know that being a black man has something to do with their reaction to me. In those moments I find myself instinctively trying to take up less space or over-apologising if I bump into someone.
It's so important for everyone – not just black people – to celebrate black history and see it as a shared culture. It's also important to see other black people publicly share their stories and achievements. We've had a fantastic response to our #proud2be campaign on social media and we're hoping everyone embraces our two-day celebrations at Plexal.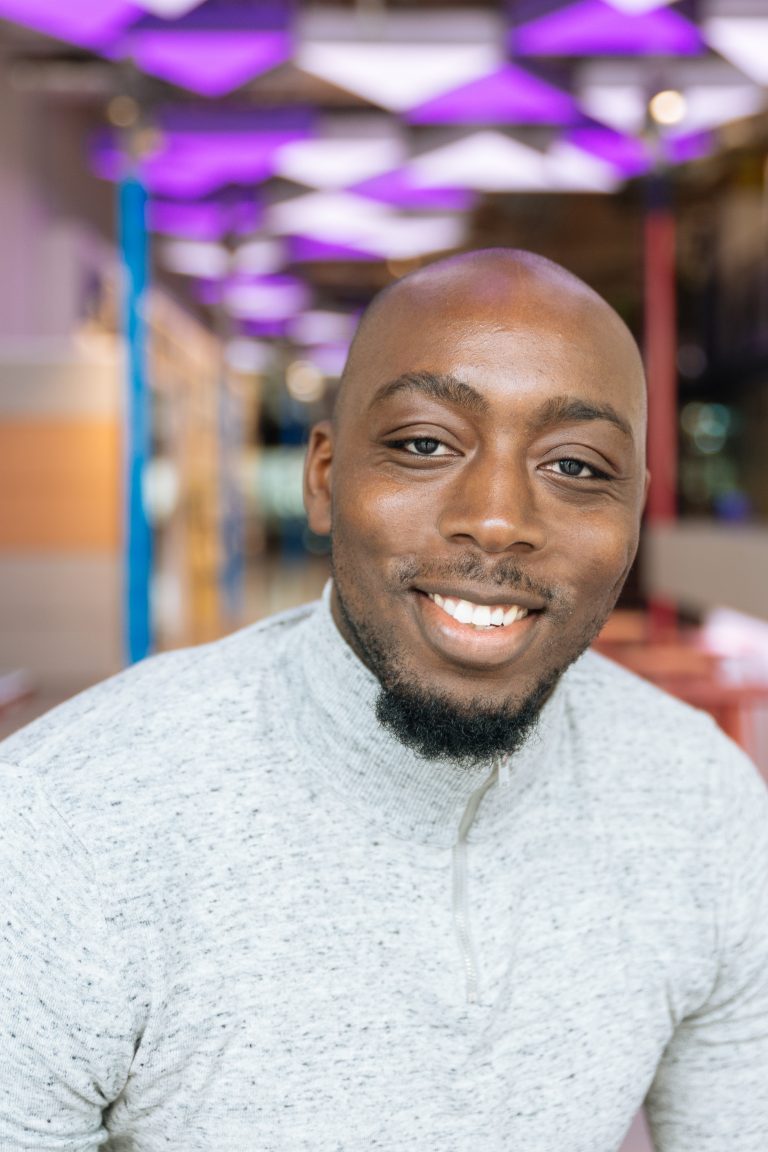 "Simply put, we need funding. And London needs more community-based organisations like us – especially as gang and knife culture is becoming the new normal."
Why did you join OpenDoor, and who do you most want to connect with?
Simply put, we need funding. And London needs more community-based organisations like us – especially as gang and knife culture is becoming the new normal. The young people we work with tell me they don't want to carry a knife but they do it to protect themselves because they figure everyone else is. And even the language they use is becoming more violent and threatening. Gangs offer young people with hard lives a sense of belonging – at BADU we want to give those kids an alternative that's more positive. We're all about empowering people and showing them that they can dare to expect something better.
We know our approach works because we have so many success stories of people who have turned their life around and are now mentoring their peers or fulfilling their ambition, whether it's to play sport, go to university or get a job.
There's so much more we can do in terms of events and programmes, and so many more people in east London and beyond we can reach, but not without funding. I have an amazing team but they're operating at maximum capacity and there's a limit to what we can do with the resources we have now. That's why we joined OpenDoor: we want to engage with VCs and corporate partners who believe in our mission and can help us grow.
Wait, there's more…
Want more? Read a more in-depth profile we published about Nana's story.
And if you'd like to see Nana and the rest of our cohort pitch their solutions at our showcase events, get in touch with our inclusion team and we'll share an invite.
Finally, join in the Black History Month celebrations at Plexal this Thursday and Friday:
Thursday 24 October: Exhibitions and displays from 1-8pm.
Friday 25 October: performances (including singing, rapping, dancing and spoken word) from 6-8pm.