We're excited to introduce you to the 20 scaleups we've selected to join our fourth cohort of cyber innovators, which is also our largest and most international yet.
LORCA, Plexal's cyber programme, revealed its three innovation challenges last year: Connected Economy, Connected Everyone and Connected Everything. And, working with our industry partners, we've chosen companies with solutions that can tackle them head-on.
From automation and AI-based products to VR and supply chain risk analysis solutions, we have a hugely diverse cohort. And while most members are British companies, we also have companies hailing from Israel, Spain, Switzerland, Denmark, Singapore and the US.
Over the next 12 months, they'll get intensive support from Plexal's innovation team, along with our delivery partners Deloitte and CSIT and our industry partners.
Welcoming our fourth cohort, Saj Huq, LORCA's programme director, said: "LORCA exists to bring cutting-edge technology to market and to enable the most promising cyber innovators become globally competitive businesses.
"The international reach and the variety of solutions within our incoming fourth cohort is an exciting demonstration of both the strength and attractiveness of the UK market, as well as an illustration of the increasingly prominent role that LORCA plays as a convener and collaborator within the global innovation ecosystem."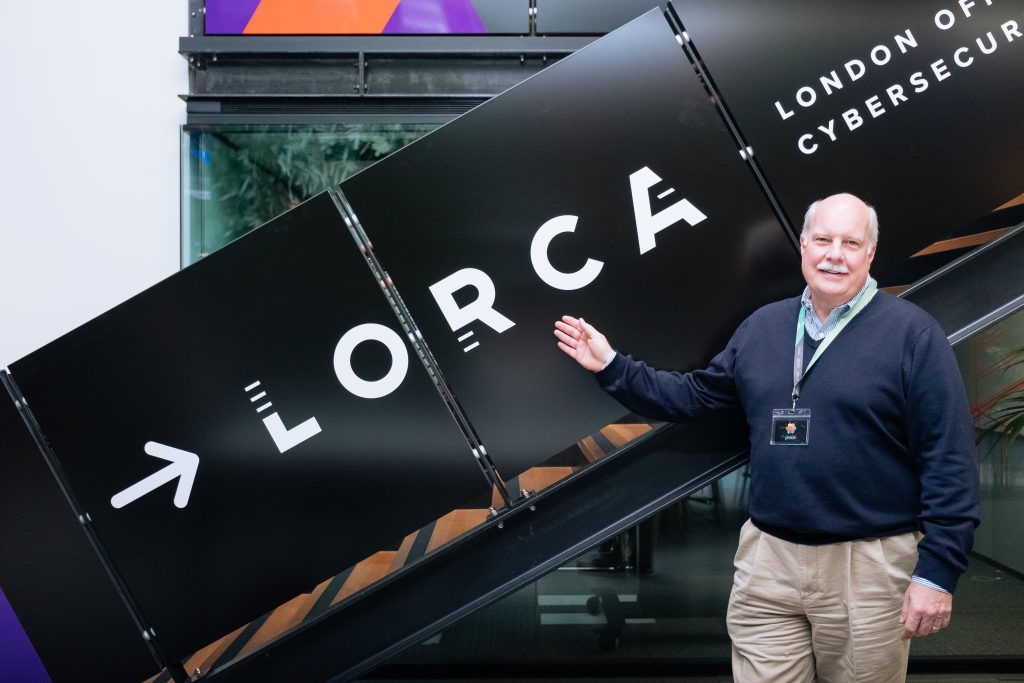 Meet our cohort
Acreto delivers a Security-as-a-Utility capability that protects distributed and mobile platforms. It can help you protect any technology, operating on any type of network, from anywhere.
The company's patented technology allows organisations to securely move highly sensitive or classified data from on-premises storage to the public cloud, while retaining their data sovereignty.
This cloud-based security platform can expand perimeter defence beyond the enterprise network, providing cloud-delivered protection for devices.
Contingent is an AI-powered enterprise platform that quickly reduces the enormous burden of collecting, verifying and monitoring supply chain risk data.
Continuum Security helps companies build secure software by embedding security in the design of their systems.
Darkbeam's non-invasive threat reconnaissance platform gives you digital risk insights in seconds.
This cyber company builds products that anticipate threatscape trends. Its proactive security suite helps individuals and organisations protect their valuable data.
Keyless is a deeptech cybersecurity company that's building the world's first privacy-preserving biometric authentication and personal identity management platform which eliminates the need for businesses to centrally store and manage biometric data, passwords, and any other sensitive information without compromising on convenience or privacy.
The data security company equips organisations with the tools they need to secure and protect highly confidential documents and data.
The company's solution autonomously monitors, detects and blocks API attacks to a very high level of accuracy, freeing security teams from managing endless configurations and rules.
The company's award-winning technologies collect huge volumes of cyber risk data, which they analyse using machine learning and a highly skilled team to enable you to stop your cyber risks before they happen.
Specialising in privileged access security, the company's software allows customers to securely and cost-effectively manage all privileged access and automate complex business and IT processes.
Risk Ledger's vendor risk management solution combines a secure social network with a risk management platform. This enables organisations to run a gold standard risk assurance programme against their vendors while making it easy for vendors to respond.
ShieldIOT enables integrators and service providers to secure large-scale critical IoT networks in settings such as smart cities, smart grid and transportation.
SureCert's digital identity platform makes background checking for recruitment and ID verification quicker and more efficient. Like a credit check, it turns personal information into a score, making sure that sensitive personal information is kept securely.
Helping companies monitor and manage their cyber protection in real time, ThreatAware is a single pane of glass on every aspect of an organisation's cybersecurity – including all hardware, software, cloud services and IT compliance standards.
The company provides application shielding solutions to clients around the world, from fintech to government to medtech, military, aerospace and beyond.
Variti specialises in malicious bot detection and associated shielding technologies, especially for the verticals most at risk such as ecommerce, media, entertainment and financial sectors. It protects websites, apps and APIs from fraud and attacks without affecting the end user.
VIVIDA combines storytelling and interactive virtual reality to develop the most impactful cybersecurity awareness and education. Its VR experiences are designed to change attitudes and behaviour, make cybersecurity play a bigger role in a company's culture and reduce the risk factor.
The company helps organisations darken their networks and prevent cyber attacks with invisible network access gates which only materialise when certain trust standards are met. Its technology makes connectivity within enterprises (and their supply chains) easier to arrange and safer to operate by ensuring connecting systems are completely invisible to third parties.
The view from our partners
Our industry and delivery partners are also looking forward to supporting and engaging with our latest cohort. Paul Branley, director of strategy, innovation & testing at Lloyds Banking Group, said:
"Lloyds Banking Group partnered with the London Office for Rapid Cyber Security Advancement (LORCA) in June 2018 and have most recently been involved in the cohort 4 selection of cyber companies. These innovators have highlighted the current quality and breadth of cyber skills within the UK market. Lloyds Banking Group continues to collaborate and partner with LORCA as we recognise that incremental change isn't enough and we need a transformative approach to keep ahead of the threat. The cohort selection event allows us early access to cutting edge technologies and innovators, ultimately supporting our ambition to solve cybersecurity challenges and support our business strategy to Help Britain Prosper."
Meanwhile, Stephen Wray, director of Cyber Risk Services at Deloitte, said: "We continue to be impressed and inspired by the quality and volume of applicants to LORCA. This fourth cohort highlights some outstanding products and solutions that seek to address the complex cyber challenges facing our clients today. Deloitte's dedicated cyber team will continue to provide technical and market expertise to the latest cohort, supporting the development of cyber innovation."
Louise Cushnahan, head of innovation at CSIT also added:
"Our academic and engineering staff have a strong track record in supporting UK cyber security companies. In recent years almost 100 have benefited from our expertise to scale-up and deliver truly novel solutions to global markets with recent government figures showing that UK cyber security exports topped £2bn for the first time. The breadth of this cohort represents a rich opportunity to deliver further economic, technological and societal outcomes for CSIT's cutting edge research and innovation in the area of Secure Connected Intelligence."